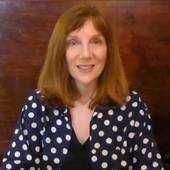 By Maureen Bray Portland OR Home Stager ~ Room Solutions Staging, "Staging Consultations that Sell Portland Homes"
(Room Solutions Staging, Portland OR)
Recently a Portland, Oregon broker contacted me to discuss a lingering vacant listing -- the home had been actively on the market for an entire YEAR.  Most buyers couldn't figure out which bedroom was the Master. The seller hired Room Solutions Staging to stage this 1937 English-style home.  It had great bones but badly needed some pizazz, color, and more light.....The seller received two offers within one week of staging, and the house is SOLD ~ Staging works!   The LIVING ROOM felt dark and dreary before ... But was much warmer & inviting when Staged:      Buyers thought this BEDROOM was too small ...But once staged, could see that a Queen bed easily fit here:         This BATHROOM seemed cold & sterile Before ... And looked elegant when Staged:             The DINING ROOM color was a...