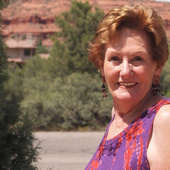 Real Estate Agent
Sandra Steele
Integrity, Knowledge - 37 Years of Experience!!!
Cottonwood, AZ

—

Wise Choice Properties, Sedona/Verde Valley Branch
Let my 37 Years of Experience Work for You! We cover Cottonwood, Sedona, Cornville, Clarkdale, Rimrock, Camp Verde and the Verde Valley Arizona. We work with Integrity and Knowledge.
Get to know Sandra Steele
I was Raised around the Construction business including decor & design.  I have worked for many satisfied clients including investors and want to Work for YOU!
Licensed in the State of Arizona 37 years I have many extremely satisfied customers and clients.  You will be too. 
Go to my web site for wonderful information regarding the Verde Valley, mls search, testimonials + more.  I am looking forward to working for you with Integrity & Knowledge.
Sandra J Steele,  Realtor®, SFR, AHWD, SRS, Branch Manager
Wise Choice Properties, Sedona/Verde Valley Branch
Direct Line 928 649-9888       Cell:         928 301-3898
Office:        928 649-9888      
Sandra Steele's Blog Posts
Home Buying
–

almost 5 years ago
Home Buying
–

about 5 years ago
Home Buying
–

over 5 years ago
Home Selling
–

over 5 years ago
Certifications
SRS, AHWD, SFR
Full Service Real Estate Brokerage. working with the highest of Integrity and Knowledge.
Go to my web site for great information.  www.CottnwoodHomesfoSale.com
Email me at Sandra@CottonwoodHomesforSale.com
928 649-9888 / 928 301-3898 
LET MY 37 YEARS OF EXPERIENCE WORK FOR YOU!
Testimonials for Sandra Steele
Roy McAtee, Ph.D. Bobbi McAtee

08/17/2015

August 7, 2015

TO WHOM IT MAY CONCERN:
We commend to you Sandra Steele of Wise Choice Properties.
She has been our real estate agent in the purchase of a rental property, and we have been very pleased with her excellent service. She was fully engaged in every part of the process. Her actions were always timely, and her response to each of our questions, concerns and requests was always prompt. Her experience, expertise, and continuing education in real estate matters were a valuable asset for us, and she has made them fully available to us without becoming pushy or presumptuous. On multiple occasions she went above and beyond our expectations of a real estate agent, rooting out information that might be helpful to us as landlords, and compensating for the delinquencies and inaction of others who were party to the transaction in which we were engaged. She is as sharp as a tack, and as tenacious as a bulldog; but she has treated us with utmost respect as her clients.
We heartily recommend her as one of the best and most professional real estate agents we ever have known. Z-11 A( 6:45'.-- Roy McAtee, Ph.D. Bobbi McAtee

Rita and Joseph Steiner

05/19/2015

We are more than happy to be writing this letter of referral for Sandra Steele. She has been in our estimation one of the best real estate agents that we had the pleasure to use for buying our home in the Verde Valley. She is dependable, knowledgeable, and will go above and beyond her obligations as a realtor.

First, Sandra has always made herself available. Sandra was not our first realtor that we dealt with in the Verde Valley. We dealt with others in the two years that it took for us to sell our home and it seemed like every realtor that we enlisted to help us buy was either a disappointment or they were moving out of the area.

Sandra was not that way. We moved to the Verde Valley from California and every time that there was a need to contact her about homes in the area she was ready and willing to help and always attempted to give us as good information as possible.

In addition, because of her tenure in the area she is extremely knowledgeable about the ins and outs of the valley. She is able to judge the homes as to price and what the buyer will have to endure before and after the purchase. She is aware of HOAs, taxes, and other encumbrances in the surrounding area.

We feel that she is more than qualified to keep the buyer/seller from making a move that would become a problem down the road.

Finally, Sandra is a realtor that will go above and beyond her capacity as a realtor. We say this because of our own experience of going through having our home on the market and desiring to make a move directly from California to the Cottonwood area. When this is done, it is very unusual nowadays, timing is very important. However, we experienced a problem with the time that we needed to be out of our old home and make the move into the new one. We were off by a couple of days.

Sandra was extremely gracious to allow us to stay in a spare bedroom that she had at her house for those days and one additional one because of being overwhelmed by the movers in the new house. This way we would not have had to put out more money for a hotel room in Cottonwood.

We hope this helps establish who Sandra Steele is and the personal touch that she has when dealing with her clients. We feel that she will do everything in her power to help you find or sell a good home in the Verde Valley and help alleviate any problems during the process if at all possible. She is probably the best person for the job of buying/selling a home in the Verde Valley.

Thank you,

Joseph and Rita Steiner
928-634-0029

Harvey and Lee Patterson

03/15/2015

Harvey & Lee Patterson 2330 W. Rustler Lane Cottonwood AZ 86326
To Whom It May Concern:

We are pleased to write a letter of recommendation for Sandra Steele, Branch Manager of Wise Choice Properties.

She has been a resident of Cottonwood Ranch for 15 years, and during that time has taken a personal interest in promoting the properties in our community. Sandra has the dedication and experience to work with both buyers and sellers.

Both of us have been involved in Ranch activities since we moved here in 1999. Harvey is a Past President of the Ranch Board of Directors, a member of the Architectural Committee plus several ad hoc committees for the Club. Lee coordinated social activities for three years, chaired the Neighborhood Pride Committee and is currently the Water Aerobics instructor.

It is very satisfying that Sandra, both neighbor and realtor, has been a strong advocate of the multi-age lifestyle here at Cottonwood Ranch.

We cannot say enough about the personal interest Sandra invests in her clients. She has been a great resource for us many times in the past.

Sincerely,
Harvey & Lee Patterson

From: "pamrcp"
Date: Sunday, February 01, 2015 2:20 PM
To:

To whom it may concern,

I have known Sandra Steele for more than 10 years, as a friend and a
business women. Sandra is a fair, caring person and very loyal.

Sandra helped me buy my home that I live right now the transaction went very
smooth and professional.

Sandra would be a good pick for any real estate deal.

Feel free to contact me with any concerns.

Thank you,

Pamela Diffin
2502 S Pleasant Valley Dr
Cottonwood, AZ 86326
928-567-9311

Astolfo "Fito" Licea and Phyllis Sigley

01/28/2015

1/28/15

Re: Sandra Steele

To Whom It May Concern:

Ms. Sandra Steele is a Realtor® and Branch Manager of our Sedona/Verde Branch
Office; she has been a licensed Realtor® for 35 years. She is a pleasure to work
with and always has her documents completed and submitted in a timely manner.
She works very hard to give clients a pleasant experience when buying/selling
their home.

Ms. Steele's listings have all been put under contract and sold within
a short period of time. We are thankful to have her as one of our agents.

Astolfo "Fito" Licea
Designated Broker / Owner

Phyllis Sigley
Office Manage



William Wolstencroft

01/28/2015

To Whom it May Concern

I have known Sandra Steele for over 7 years, She was the listing agent of a house in Cottonwood Ranch that I purchased in 2006. Throughout the sales process she exhibited a professional and courteous service and cooperation to my agent and myself while representing the interests of her client.

William Wolstencroft 928-634-8480


Cheryl Gander Spagnolo

01/28/2015

315 Red Rock Dr. Sedona, AZ 86351 January 28, 2015
To Whom It May Concern,

I have had the pleasure to choose Sandra Steele as my realtor to represent me on two different properties. Her skills are unsurpassed and professional. She was able to assist me in securing a contract on my present residence within a week of my decision to purchase it, even though there was a counter offer involved. Her ability to handle legal paperwork in a timely as well as professional manner was the key to the success of this purchase.

I also appreciated all her professional advice as well as her patience in explaining all issues that were not clear to me at the time. Besides that she was the one who sold my previous home in Verde Santa Fe in Cornville. This she did within three months of it being listed when everyone else was telling me it would take a year to do so.

I so appreciated the time and the effort that she put into this as she made sure that my property was constantly being placed in an advantageous position on the reality listings on the internet. She was constantly showing my home to qualified interested parties as well. I knew that she took a serious interest in selling my home in a timely manner as she was in continues contact with me during the process.

I recommend Sandra to everyone who is interested in selling as well as purchasing a home. The ease, even with some complications that did come up, with which Sandra took care of everything and the handling of all the appropriate paper work was a gift to me in both situations.

I had sold a home in New York before moving here and did not receive the care and professionalism that I experienced with Sandra Steele. I highly recommend Sandra for anyone who is selling or purchasing a property and would like it to be handles professionally and in a timely manner.

Sincerely,
Cheryl Gander Spagnolo


Several clients

05/09/2002

1. The thing about Sandra is that she does NOT give up. Prior to meeting Sandra, we were told by other
Realtors® and lenders that we could not qualify for a home at this time. We couldn't have done it
without Sandra. We are in our home and couldn't be happier. Sincerely, Bernard & Ginger Davis.

2. My husband & his X wife claimed bankruptsy. We were told by lenders we contacted and other
Realtors® that we could not qualify for a loan. We were upset as our income is above the average.
Sandra Steele was referred to us and everything turned around as if a miracle happened. She worked
diligently with us and a lender. We are enjoying our new home and our new neighbors. Thank you
Sandra. Dan & Dixie

3. We are Veterans. Sandra was referred to us and our move from Florida to Cottonwood went as smooth
as silk. She spent time with us until we found what we were looking for. Her efforts were so advanced.
She is the only REALTOR® we will deal with in the future. She's not only professional but she is honest.
Jim & Jeri Strande

4. Sandra will work until she gets the job done. C. L. Mayberry Coldwell banker

5. It was Sandra's dedication that helped me with my move from Cave Creek, AZ to Cottonwood, AZ

Sandra provided me with a Realtor® name and number that sold my Cave Creek residence in an extremely professional and timely manner. The process of selling my Cave Creek residence and purchasing a home in Cottonwood went extremely smoothly.

Sandra was extremely thorough and saved me time and money. Hats off to you Sandra and thank you. Donna Johnson.

6. From an Arizona Disabled American Veteran. If it wasn't for Sandra, I would never have the home that I have. The process was overwhelming to me at first but Sandra had me calmed down in no time.

From purchasing my home through the process of making it eligible for VA requirements for a 100% handicapped person, she never stopped.

I would have given up but not Sandra. She worked on my behalf for the 4 months it took to get the home ready for all VA inspections and approval. I have a beautiful home that now meets all VA requirements.

I would recommend Sandra as I think she is a miracle worker. She also helped me in acquiring my deserving $50,000 grant from the Veterans Administration,
which I used for my down payment. What a job that was. She's the best. Kenneth E. Skye.

Introducing a fresh new look for your Profile.
Click the 'Edit Profile' button below to enter 'Edit Mode' and continue the tour.