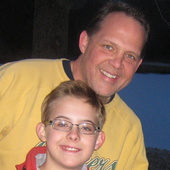 NMLS ID# 158606
Mortgage and Lending
Larry Bettag
Vice-President of National Production
Saint Charles, IL

—

Cherry Creek Mortgage Illinois Residential Mortgage License LMB #0005759 Cherry Creek Mortgage NMLS #: 3001
I'm VP of an awesome company. As an attorney and a lender for over the last 25 years (YIKES), I've been able to help a lot of people! BORN TO SERVE! Let's make your dreams happen! Give me a call.
Get to know Larry Bettag
Working with Larry Bettag and Cherry Creek Mortgage.  Larry Bettag has been a loan officer since 1994.  Besides being a licensed loan officer, Larry is the Vice President of a nationally known mortgage company, runs a branch in Saint Charles, Illinois and is a top 5 loan officer nationally.  Additionally, Larry is a licensed real estate attorney.  All of these components make Larry an excellent choice for smart home buyers who want to make the most of their home as a financial investment.  For first time homebuyers, Larry's expertise can help a borrower by finding creative ways to obtain home ownership as while learning how to position themselves for financial growth through home ownership.
Cherry Creek Mortgage is a privately held mortgage banking company based out of Colorado.  Cherry Creek funds and closes loans in their name.   They underwrite for 66 different mortgage lenders.  Additionally, Cherry Creek has the ability to broker to over 300 different mortgage companies.
 We're not publicly traded and therefore, not tied to Wall Street shareholder expectations.  Profits are important, but don't define our company.  That means that you'll always get a fair deal. Cherry Creek Mortgage is a privately held company that has a personal mission to honor God in all the company does.  Acting with honor and integrity is imperative to the reason we exist and serve our clients.
I love coaching my team.  I love being used to bring out the best in others.
I have a motto..."you work to live, not live to work."  This is important to me.  I have 5 kids (I know...I'm sick), so a commitment to my wife and kids is imperative.  That only means that I have to be better at serving my clientele and have better efficiencies in order to do so. 
Passions in life are really clear. 
1)  Want to be the best that I can be.  Need to use the DNA that God gave me to the fullest.  "Go hard or go home baby."
2)  Vacationing with family - You only got one time to go around.  Can't get that time back.  "Work hard, play hard."
3)  Disc Golf - Used to be a professional disc golfer.  That was pre-kids.  Important to me that I still get that opportunity to go out and hit the links.  Check out www.pdga.com 
4)  Mountain and Rock Climbing - God made the Rocky Mountains for me.  I love going up there and climbing all the 14-ers.  Invitation to solitude with God and nature....too cool.  Can't drive to most places.  If you're going to connect, you need to put forth the effort in order to go to places that no one else will make the effort to achieve.
5)  Re-Opening Camp Saint Malo - www.saintmalo.org/history.htm.  I worked here during my 4 summers of college.  Too cool to explain.  Got it re-opened for 3 days last summer.  Two weeks this summer.  Want fun, the mountains, God and outrageousness all combined into one....Here's where it's at.  Take a look.
6)  Vince Lombardi mentality - God first, Family Second, Green Bay Packers, er...Cherry Creek Mortgage third....
Larry Bettag's Blog Posts
ActiveRain Community
–

over 3 years ago
ActiveRain Community
–

almost 7 years ago
ActiveRain Community
–

about 7 years ago
ActiveRain Community
–

over 7 years ago
Certifications
As an attorney and lender, with over 13 years of experience, I can do most any loan.  From first time home buyers to high end professionals seeking to build a multimillion dollar home or purchasing investment properties, I should be able to serve most.  My favorite part of the job is helping people getting a grasp on their finances and steering their life and savings into a direction for their future success.  Houses can be used to save money on taxes, as a college tuition savings tool, or as a long term retirement tool.  There are loans to help you buy a home with no money down and even non-recourse loans that can be purchased through your I.R.A.s  It's just important that you have something that you're working for.  If you have a financial goal, then your home can be a part of it.
I can egotiscally say how great I am, but that's just a lot of BS.  It really needs to be stated from someone else.  The truth of the matter is that I enjoy helping people achieve their dreams.  Quite frankly, I get paid only if I help people achieve their goal of home ownership or home ownership to create wealth. 
I do public speaking nationally and am an author.  Mainly motivational!  I speak to mortgage companies, people in real estate and generally to those who want to use the DNA God gave them.  It's not important to be a national speaker.  Rather, it's important to positively influence the lives of those people you come into contact with during the time that you can interface with them.  Everybody is given certain gifts and abilities that other people don't possess.  Most people make the mistake of comparing themselves to others instead of investing into their own strengths.  If I can help businesses or individuals tap into their strengths, then I've done something that I can feel proud of.  That's all part of coaching and being a coach
Most of the time, I pour myself into my clients, my office and my region.  While I enjoy working with my clients, I'm mostly pleased with developing a personal relationship with them....not in some sort of stalking way, but in a trusting kinda way.  I won't harass you, but I'm there for you.
Education is all Local:
1) Graduated from Saint Patrick's Catholic Grade School in Saint Charles, Illinois
2)  High School - Saint Edward's Catholic High School in Elgin, Illinois
3)  College - Benedictine University f/k/a Illinois Benedictine College - Lisle Illinois
4)  Master's in Clinical Psychology (I'm not a psych freak though - I got out of it!) - Roosevelt University - Chicago, Illinois
5)  Law Degree - Doctorate of Jurisprudence - Northern Illinois University - DeKalb, Illinois
6)  Life Education - Still rolling on this!  Whew!
Introducing a fresh new look for your Profile.
Click the 'Edit Profile' button below to enter 'Edit Mode' and continue the tour.