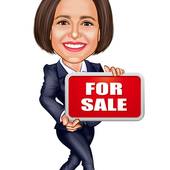 By Evelyn Santiago, Managing Broker Heart Realty Group, Inc., Passionate About Real Estate & Our Clients!
(Heart Realty Group, Inc..)
Low inventory levels is a phrase that is consistently in the news when the subject is real estate - the housing market, etc .   So how low is low? As of today, in Aurora, IL, there are only 108 detached homes for sale.  Considering that the city has close to 200K people (final numbers not ready for 2020 census)  that is pretty low.   So here is the breakdown by type of listings:Detached Single Family Homes - Aurora, IL# 2 City in ILTotal Active 108 - Population - 194,873 (2021)New - 44  Reactivated - 11  Price Change - 8  Active - 45 There are currently only 2 homes under $100K.  Only 1 home is over a Million ($1,195K) Let's look at a couple of other towns that are similiar -  Joliet, IL & Elgin, IL Detached Single Family Homes - Joliet, ILJoliet, IL - Total Active 103  Population - 146...