PuroClean Professional Services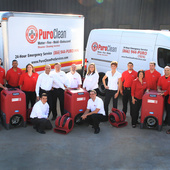 Home Builder
PuroClean Professional Services
"The Paramedics of Property Damage" - serving the Greater Cleveland and Akron metropolitan areas.
Get to know PuroClean Professional Services
Emilio Soli, George Cruz - Managing Partners
With more than 25 years combined experience, Emilio Soli and George Cruz have a proven track record of building and managing successful sales and operations platforms for both small and large business organizations. PuroClean Professional Services is a bi-lingual, minority owned business that strives to provide world class service to consumers in the Greater Cleveland and Akron Metropolitan area through a referral network of insurance professionals. In an effort to return value to local communities and business partners, PuroClean sponsors events and is a member in the following associations:
Chamber of Commerce member - North Olmsted Chapter Hispanic Chamber of Commerce for Ohio National Society for Hispanic MBA's Sponsor quarterly Continuing Education Courses for insurance professionals Insurance Board of Northern Ohio Cleveland Claims Association Akron Claims Association IICRC certified company Portgage County Insurance Association Corporate sponsor - March of Dimes Corporate sponsor - Our Lady of the Wayside Center
At PuroClean Professional Services our promise is simple. We do whatever it takes. We understand that a property disaster is disruptive and emotionally unsettling. That is why we constantly strive to provide unexpected extras in order to "WOW" our customer - we do whatever it takes to get their life back in order.
PuroClean Professional Services's Blog Posts
ActiveRain Community
–

over 10 years ago
ActiveRain Community
–

over 10 years ago
Real Estate General Information
–

over 10 years ago
Certifications
In an emergency, speed is of the essence -- especially when property is at risk. Lives can be deeply affected by property loss, and recovery often depends on the quick reaction and competent care of emergency mitigation professionals. PuroClean provides fast, 24-hour dependable service. Our team of professionals is trained to resolve the situation quickly, making your recovery as complete and easy as possible.
Guaranteed Emergency Response within 1-2 hours, Any time of Day or Night
Personal attention is what makes the PuroClean experience the best in the industry. We employ the latest techniques and procedures throughout the mitigation process and provide unparalleled service and response. Regardless of what caused the disaster, we will do whatever it takes to restore your property and your sense of security. That's our promise. After all, disasters are unpredictable, so we need to be just as flexible to put your life back together.
Our services include:
From flood and storm water to a faulty household appliance, unwanted water is one of the greatest threats to your property. PuroClean has the experience, technology and response you need to restore your property and get your life back on track.
Guaranteed Emergency Response within 1-2 hours, Any time of Day or Night
Specializing in advanced drying and dehumidification techniques, PuroClean rapidly removes water and moisture from carpets, floors, and walls-minimizing the disruption, so you can get back to your home or work. The result can save property owners and insurance companies valuable time and money.
Our water removal services offer the following:
Emergency water extraction Mold and mildew odor removal and containment Drying and dehumidification Carpet and carpet cushion restoration Carpet cleaning, deodorization, stain removal, and replacement
In the aftermath of a fire, a trained fire mitigation professional will help prevent further damage to your property. Our team of licensed technicians are fully trained and certified in treating the effects of smoke, heat, and residues caused by fire and smoke.
Guaranteed Emergency Response within 1-2 hours, Any time of Day or Night
By beginning the mitigation process as soon as possible, PuroClean can salvage many metals, fixtures, and other household contents. Our state-of-the-art techniques and cleaning solutions can dramatically increase the likelihood of saving property without needing to replace it. Please don't wait to call us. We will save you and your insurance company time and money.
Smoke and Odor Removal Complete Cleaning & Sanitation Professional Deodorization Temporary Protection and Board-up Carpet and Pad Replacement (when necessary) Air vent and duct cleaning
PuroClean offers professional Mold Inspection, Mold Testing, and Mold Removal estimates in the greater Cleveland & Akron metropolitan areas.
Professional Mold Inspection: PuroClean works with you to help determine the source of the moisture and how to correct the problem. PuroClean uses professional meters to detect moisture levels in the air (humidity) and in contents/structure. Addressing the moisture issue causing the mold problem is the most important step in the mold remediation process. PuroClean will provide you a detailed line-item mold removal estimate for consideration and possible review with your insurance company.Mold Testing: PuroClean will take several air and surface samples and submit them to an independent AIHA certified laboratory for mold analysis. A professional laboratory report will be provided to you detailing the mold (spore) type and count for each sampled surface and/or area. An outdoor air sample will be taken as well for reference. PuroClean will review the report with you in detail and answer any questions regarding the results.Mold Removal: Upon your acceptance of PuroClean's mold removal estimate, certified technicians will:
Contain the affected area(s) and place under negative pressure with HEPA filtration. Remove and/or clean the affected contents and structure as needed (Mold Remediation). Apply an anti-microbial agent (fungicide-biocide) to the affected area(s). Professionally dehumidify and dry the affected area(s) as needed. Contact a post-remediation mold testing company to provide clearance test on our work. Submit complete job estimate, photos, and invoice directly to insurance company if applicable.
Prices:
Professional Inspection & Mold Removal estimate preparation only: $135 Professional Mold Testing, Inspection, and Mold Removal estimate preparation: $275 Professional Mold Removal (Remediation) & Professional Drying (as needed): Varies by job
Call Toll Free: (866) 944-PURO (7876) to schedule an appointment today!
Want More Information on Mold? Visit the EPA's website "A Brief Guide to Mold, Moisture, and Your Home" http://www.epa.gov/mold/moldguide.html
Specialty Services
Property damage emergencies are always unpredictable. Fortunately, our consistent response is not. PuroClean offers specialty services for any number of property damage situations. In addition to providing exceptional service in response to water, mold and fire damage emergencies, we also offer the following specialty services so that you can begin to get your life back to normal:
Trauma and Biohazard clean up Debris Removal
Introducing a fresh new look for your Profile.
Click the 'Edit Profile' button below to enter 'Edit Mode' and continue the tour.