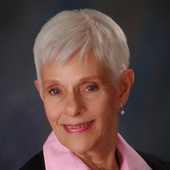 Real Estate Agent
Karen Kruschka
- "My Experience Isn't Expensive - It's PRICELESS"
Woodbridge, VA

—

RE/MAX Executives

RE/MAX International Inc.
12531 Clipper Dr
#101
Woodbridge , VA 22192
---
Experience, technology and attention to detail are the foundation of our commitment to client service with more than 1,500 served. Put 30 plus years of service in Northern Virginia to work for you
Get to know Karen Kruschka
Hi, I'm Karen Kruschka. I'm a full time, full service REALTOR®. The thing I enjoy most about my job is the opportunity I have to help people meet their objectives buying and selling real estate. My husband, Arthur, was a real estate broker for 36 years, but now is in charge of my marketing and technology programs to strengthen our client service programs. Over the past 3 decades we have assisted more than 1500 families, first time buyers, singles and investors.
We are especially proud of the number of people who have used our expertise over and over and also refer their family, friends and associates to us. Additionally, we've had several situations where we sold a young family a home, watched their children grow and then sold properties to their children.
There is a simple explanation for our record of success - we take the time to listen to and hear your requirements so we can develop a game plan with you to meet those objectives. Over the years we have worked in "hot", "cold" and "normal" markets and believe we are the best qualified to assist you.
I have the knowledge and skills and I will put in the hard work to help you reach your real estate goals.
Karen Kruschka's Blog Posts
Just for Fun
–

almost 4 years ago
Real Estate Market Trends
–

about 4 years ago
Real Estate Market Trends
–

about 4 years ago
Real Estate General Information
–

almost 4 years ago
Summer Fun In Prince William County Virginia
A short tour of recreational facilities
Skills
During my more than three decades in the real estate business I have participated in many developments in both technology and customer service attitudes.  I practice the "old fashioned" idea of regular commuication with my clients while employing all the lastest technological tools to facilitate meeting their objectives.
Testimonials for Karen Kruschka
Karen, I want to tell you how much I enjoyed my recent home selling and buying experience with Re/Max. Especially, I want to commend you for your smooth, confident, professional experience. You walked me through an overwhelming maize of listings on-line and made the selection process seem doable. Then when an Alaskan cruise (planned months earlier) coincided with critical property decisions being made in NC and VA, you coordinated every detail smoothly with my NC Re/Max representative (and me via Internet on cruise ship) to keep everything on track. It all happened like clockwork. I highly recommend you to my friends for their real estate needs. Thank You!"



Carmen T. Gonzalez

07/28/2016

I highly recommend Karen Kruschka as an experienced, responsive and knowledgeable real estate agent. Within 3 weeks of our listing, we had a very good contract which met our financial and personal needs. This contract came after our previous agent dropped us as clients because we were not willing to accept an offer for less than our bottom line. This agent stated that there was no way we were going to get the house price we wanted. Well, Karen quickly proved her wrong.
She was very helpful throughout the selling process with her support and wisdom. As opposed to our previous agent, she never pressured us to accept anything that we were not comfortable with, and if anything she was extremely good at cautioning us not to take offers that were not in our best interest. Additionally, she was excellent in her availability and responsiveness, promptly returning phone calls, etc.
Because of all her excellent qualities, I have no hesitation in highly recommending her as a real estate agent. She is knowledgeable, experienced, responsive and very professional.





Karen Kruschke is the person you want to help you find a house to buy or lease. Karen is tireless , meticulous, and professional.

A couple of years ago Karen helped me find a house to lease when I first came to Virginia. Most recently she helped my fiance and me find a house that was just right for our needs at a price we could afford. In today's market there are so many variables that seem to change every day. If it is a house that nobody else wants you probably will have a lot of time to make an offer on it. But for that special house that has all of your requirements at a good price you have to act within days, if not within hours. I didn't have time to tirelessly watch the listings. But Karen watched them daily and let me know instantly when one came up I wanted to see."

Probably one of Karen's best attributes is that she listens. She heard and took note of the little things I said I wanted in a house. More importantly, she listened to my fiance and garnered the little facts that made it all come together. Karen never gave up. We looked at dozens of homes over a six month period. Even when I felt like giving up, she pressed on. Karen was tenacious when it came to finding the exact house I wanted. I heartily recommend Karen for all of your real estate needs. Karen's not just another real estate agent, she is a professional real estate expert who cares about, and enjoys, what she does!"



Bhak Tanta-Nanta

04/29/2016

I wanted to take a moment to thank you for the incredible effort and guidance that you provided my family through the sales process of this condo. I truly believe that it would not have gone as smoothly as it did if it weren't for you and your expertise. You and your husband have both be so generous to us with your time and knowledge I absolutely can not express the gratitude I feel."



Todd and Lisa Gossett

03/14/2016

"We came to Karen with a set of challenging requirements—a strict deadline, strict budget, extremely limited geographic area driven by the school district, and a picky list of desired property attributes. Fortunately, Karen is a consummate professional and was undaunted by our wants and needs. Her calm demeanor, patience, expert advice, in-depth research, and thorough follow through were key to helping us finally find a home that would meet our requirements.

The house we selected was being sold by a relocation company, which often results in a complicated home buying transaction. We also experienced HOA and closing inspection issues. Karen's vast experience and tenacity helped ensure everything was taken care of to our satisfaction. It was truly like having a member of our family in our corner. We are as picky about our realtors as our homes, and will not hesitate to use Karen's services in the future."



Jeff and Sherri Brown

01/26/2016

"After having lived in the Woodbridge area for 17 years, my wife and I decided to relocate closer to our oldest daughter and her family. For months before even putting our home on the market, Karen was always willing to make time to show us potential properties close to the Bristow area. We did not know exactly what we were looking for, but Karen always remained patient and willing to let us get our house hunting "fix". Unable to find a home that met our needs, we finally decided to go ahead and put our current home on the market, knowing our exhaustive search had not provided any potential options for a new home. With Karen's knowledge of the market and how to appropriately market our home, she was able to find a buyer within several weeks of the listing. We never had to worry about anything during the selling process, leaving everything in her capable hands. When finally finding a home in our desired area, Karen once again represented us in a very competent, professional manner, making the buying process as non-stressful as she had during the selling of our old home."



Debra S. Rucki, Phyllis Samarco, Thomas J. Samarco

01/15/2016

On behalf of our family, we thank-you for your tireless effort in assisting with the sale of our sister's house in Virginia. Your understanding and willingness to work with our attorney and Pennsylvania law expectations to protect the financial interest of senior citizens is to be commended. The Pennsylvania court system has stringent laws and processes in place that required tireless effort on the part of a realtor to negotiate the sale of our sister's house. When I had a friend and real estate colleague in Pennsylvania conduct a search of REALTORS in the Manassas, Virginia area, your name was by far recommended as having the experience and willingness to manage cross state real estate sales. As the saying goes, your experience is priceless!"

Debra S. Rucki, Phyllis Samarco, Thomas J. Samarco

"Normally, selling a home long distance is very difficult. Your market analysis and marketing strategy helped us obtain a higher sales price than we would have expected. You made the distance between Atlanta and Fairfax seem irrelevant since you handled all the local issues and kept us fully informed every step of the way. Thank you!"



Karen has helped me sell two properties and buy one. The first home I sold was empty when it went on the market. She would go over after a showing to make sure it was locked up and in good condition. She kept me informed all the way through the process. She was always prompt when an offer came in and went over options with me. Her marketing ideas kept buyers viewing the property. At one point I was traveling and even then she kept in touch. I appreciated knowing that she was there to keep an eye on the property.

Recently, Karen helped me find a condo with a view. I would call her and within a day we were off visiting various locations. When I wanted to revisit some she was available and willing. Her help going through the condo to look for repairs gave me confidence that I was choosing a place I could live in. When negotiating the purchase she would give me options but left it up to me as to what I wanted to do (very professional). I recommend her as an agent for both selling and buying property in this area."





Bill and Karen Williamson

05/21/2015

"Over the past 24 years Karen has sold 3 homes to us and sold 3 homes for us. She recently sold us our 4th home. Her knowledge and thoroughness made the process much easier. We appreciate her skill and patience."


Introducing a fresh new look for your Profile.
Click the 'Edit Profile' button below to enter 'Edit Mode' and continue the tour.