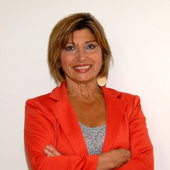 0225 204112
Real Estate Sales Representative
Joy Khalil
Sell and Buy with Joy in VA and DC
Falls Church, VA

—

Long and Foster
Get to know Joy Khalil
Hi- I am a a DC girl transplanted to Virginia. Before finding my calling in Real Estate, I spent my previous life as a career sales and marketing professional in Insurance and investments primarily, software and computer hardware sales secondarily.  I lived in about 5 different states before coming back "home" and dabbled in real estate  for over 20 years. Once I returned I found my "calling" in the real estate industry and very happy that I did.
My years of sales and marketing have given my a fine tuned ear for client needs and customer satisfaction, and if I had to pick the one business value that I am a stickler on , it would be the Commandment "thou shalt always love thy Client as thy self!"  and second to that is "NO excuses, just answers". These are the two values that I attribute my quick  success in the real estate business to.
While its still very important to be a neigbhorhood "specialist", I believe in this internet savvy world,one must also be able to become quickly knowledgable and ready to assist clients outside of that boundry. I also believe good customer service means knowing when to referr for the sake of the cleint. Collaberation not compitition.
I am proactive, believe in a strong internet presence but also all world sales practice of cold prospecting which I do daily . There is no replacement for talking to people face to face or at least by phone.  In my daily role as an agent, I am ready to help buyers and sellers alike, but have developed expertise as a listing agent.
I do have a life besides real estate. I m a single mother and grandmother (thats right I said grandmother :) . ) .. Middle Eastern by birth, my grandkids call my Teytah which sounds a lot better to me than "grandma" LOL .
Humour and laughter get me through the demandsof the day .. and among my friends,.. I would be dumbed the comedian. in the group. And like most comedians I have a serious side , ready to listen and lend an empathetic ear.
I love the outdoors, Especially beaches which is what keeps me on the east coast. There is nothing like being able to hop in the car and drive to the eastern shore for a quick relaxing moment in the sun...especially after this long winter.  Other intersts are "politics and prose", good conversations, movies, dancing and working out. 
At the end of the day, we are all human and all seeking the same thing - a life of significance - and for me that means being there...
Testimonials for Joy Khalil
Cynthia D- Homeseller in Alexandria, VA

04/02/2014

I am writing to let you know what an awesome experience it was to work with Ms. Joy Khalil to sell my rental property. Ms. Khalil is an extremely professional and supportive realtor. She is very caring and concerned about her clients.
I took my house off the market last fall and Ms. Khalil was the first realtor to contact me regarding my property. She was very friendly and left a lasting impact on me. It took me a few months to decide to sell the property. When I contacted Joy, she was ready to assist me with the process. It was my first time selling a property so I had lots of questions, and she provided detailed explanations. She was attentive and stayed in constant contact with me. She provided great feedback from potential buyers. Joy hosted open houses within three days of the house being on the market and thanks to her excellent marketing strategies; I had an offer within 7 days of the house being on the market. I was very happy and within the next month, the house was sold.
I so appreciate all that Joy did to make this process easy for me. She is a great person who genuinely cares for people and a fantastic realtor. I am so glad that she contacted me. I have a friend for life.

Sincerely,

Cynthia Davis
First Time Home Seller
Kingstowne, Alexandxria VA


Shannon V and Alex N Home Sellers in DC

03/07/2014

We would unreservedly recommend Joy to anyone looking to buy or sell a home in our Dupont Circle neighborhood, or anywhere else in the City.

Joy was tenacious in seeking our listing of a two-bedroom, two-bathroom condominium. She had seen us try to sell the apartment 'by owner' and knew from speaking with us that we were growing frustrated with the limited buyer exposure that decision had left us with. We had our guard up, having been bombarded by real estate agents promising the world. Additionally, we were pretty sure that if we did engage a real estate agent, it would likely be with a friend of ours who had given us some advice and who had been 'expecting' our listing.

Joy had something special, though. She was very honest in her assessment as to what we should expect from the sales process. More than that, we sensed a genuine warmth and kindness in her, which drew us in as clients. She was charming and unflappable, which appealed to us greatly and which gave us great comfort.

Joy thought we had the right product, in the right location, but the home needed to be marketing properly.

We are so pleased that with our decision to allow Joy to market our property. Joy's research and her understanding of the market led us to an offer price that brought in just the right amount of buyer traffic to generate 'heat'. In a matter of less than a week, during which time Joy packed her schedule with a marketing campaign, broker and buyer open houses and advertising, we were in the wonderful position of having to decide among seven strong, competing offers at well above our initial offer price.

At that stage, Joy's negotiation skills, her attention to detail and astute and fair management of the competing bids secured for us the best price, with the most qualified purchaser.

Over the course of this process, Joy proved herself much more than just an extremely competent agent, she had become a trusted friend. She made an effort to communicate constantly, answering our questions as they arose, and resolving any of the minor problems that habitually arise with real estate deals without the need to trouble us. When it came to closing, we were confident that no stone had gone unturned and in fact we closed in an amazing two weeks after the acceptance of our best offer.

We will still live in the neighborhood and we will recommend Joy to anyone in the market to buy or sell a home here. When it comes for us to buy or sell again, we will not hesitate to use her. She was an absolute pleasure to do business with!

Alex and Shannon



Michele D- Home buyer in Reston, VA

02/11/2014

Happy New Year! I hope this message finds you well.

This note is long overdue, but I wanted to take the time to tell you how wonderful Joy Khalil is and as a skilled real estate agent, made buying my first home, a wonderful experience.

I met Joy through an event she organized at the public library. The event was welcoming and informative. In addition to sharing her expertise about the real estate market, she included two speakers to address home owners insurance and mortgage financing. It was this event that led me to choose Joy as my real estate agent.

Joy took time getting to know my likes and dislikes and was instrumental in setting realistic expectations. Her gentle honesty and poignant questions convinced me that Joy was the right choice. The most amazing thing about Joy's work (ethic) is that I felt as if I was her only client. No matter what time of day or how many times I contacted her, her response was immediate.

During the bidding process, an exciting and nervous time for a first-time home buyer, I had every confidence that Joy would a) win the bid and b) at the best price. I heard horror stories of friends trying to buy homes and the ensuing bidding wars. I did not experience any of this anxiety with Joy. She explained the process simply and provided me with all the options. As a result, we won the house at a price I was pleased with.

After signing the contract, she walked me through the next steps and made the process worry free. She was in constant contact with the selling agent and ensured the owners addressed any issues needing correction before closing. Again, a process that seemed easy because of Joy's negotiation and people skills.

I am a life-long fan of Joy and will use her again should I need to sell/buy another home. She has my full confidence and I will not hesitate to recommend her to friends in need of a sincere, knowledgeable agent. Please know that she is an asset to the Long and Foster family.

Thank you for your time. Should have you have any questions, please feel free to contact me.

--
Michele Dominiak
First Time Home-buyer

Reston, VA



Introducing a fresh new look for your Profile.
Click the 'Edit Profile' button below to enter 'Edit Mode' and continue the tour.