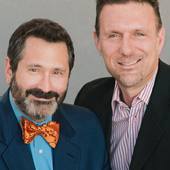 By Ronald Shore and David Hitt Shore/Hitt Network, The Most Referred Team in Los Angeles!
(Keller Williams Los Feliz)
David Hitt and Ronald Shore's neighborhood multi-yard sale in the Sherman Oaks area of Los Angeles was a big success!On Sunday, April 12th, we hosted a multi-family yard sale in the neighborhoods of Magnolia Woods and Sherman Oaks Quad. Over 25 families participated in the event.In the weeks leading up to the sale, residents who wanted to participate signed up with us so their addresses could be included in a map of all participating homes. One home, across from Kester Elementary School was chosen as the focal-point, which was advertised in various print and on-line media. A document box was set out in front of that home with maps, so shoppers could move about the neighborhood from one home to another and not miss out on any good finds. On the morning of the event we drove the neighborh...