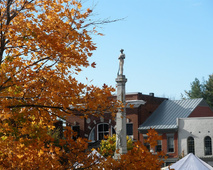 By Franklin & Brentwood, TN Homes Mike Nastri, It matters to us as much as it matters to you.
(Keller Williams Realty)
Here is an update  from our July 2011 post with the sales history and data for the Viridian Condos in Downtown Nashville.  We  went back to the beginning and put together a few stats.  What we have below are the sales figures from its initial opening in 2006 through January 2014.  You can see how quickly they caught on and ascended in value and the subsequent decline when the national market went bust.   The Viridian Condos in Downtown Nashville there are 7 currently active listings there and 2 more units are pending. The average list price price is $364,857 or $360 per square foot.  Days on the market for the pending sales is just at 11  There are 305 units but 3 have been combined to make larger units for those owners.  I hope this helps.   Sales for years past are as follows:     Sq ...