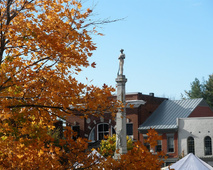 By Franklin & Brentwood, TN Homes Mike Nastri, It matters to us as much as it matters to you.
(Keller Williams Realty)
As if anybody needed more reasons to LOVE Nashville this NY Times Travel piece came out to highlight so much of what is happening here in Music City.  This video captures so much of the essence of Nashville and the new spirit that is continually being infused into the scene.   This is so well done and the interviews were great too.  Small wonder why after people make Nashville a vacation destination they turn right around and decide to make it their home.   Check out the whole video and hang around for the cedits a job well done on this 36 Hours in Nashville by Fritzie Andrade, Max Cantor, Chris Carmichael and Will Lloyd.       If you want to learn miore about living in the Nashville Area or to check out the local real estate market call Mike or Rodney (615) 787-7118 or simply visit our...