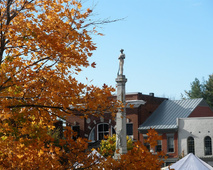 By Franklin & Brentwood, TN Homes Mike Nastri, It matters to us as much as it matters to you.
(Keller Williams Realty)
The Good Cup - Coffee House Review A Coffee House at the Crossroads of Franklin and Brentwood It's cold and snowy here in Franklin (Tennessee) today, so if you are looking for a good place for a good cup of  coffee to warm you this weekend, look no further than The Good Cup.Located on Hillsboro Road where Franklin meets Brentwood  north west corner of the city, it is a great place for just good coffee and friendly baristas. It is a warm and cozy spot with a daily supply of home made cookies and treats to go with the tasty brew.  You are bound to run into someone you know.    Local artists display their work and it is appreciated by the patrons.  If you like one you better buy it, it won't be there long. Whether you are there to link into the WiFi or share some coffee with your friends,...