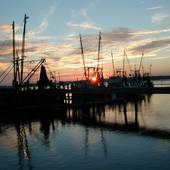 By Mike Sackman, Realtor, Broker ABR, CRS. Closer!
(MAS Real Estate Advisors)
Whether you're just visiting the beautiful coastal town of Port Royal or plan to buy a home here, there's great food waiting to be experienced here. Here's a few of the top places to eat in Port Royal.Alvin Ord's Sandwich Shop No 2If you're just looking for a great sandwich served up quick, make sure you come to Alvin Ord's. Their sandwiches are made with generous portions, and they also feature some of the best pita sandwiches in the Lowcountry. The atmosphere is comfortable and cozy, with seating inside and out. They also make their bread in house for maximum freshness.1635 On The AvenueA jewel of the Port Royal restaurant scene, 1635 offers a dining experience that features fine food, a comfortable atmosphere, and personal service from the chef and owner herself. Reservations are rec...