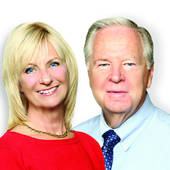 By Al & Peggy Cunningham, Brokers, Our Family Wants To Help Your Family!
(RE/MAX West Realty Inc., Brokerage)
The City of Brampton Animal Services Adopt-a-Thon Until October 6, 2012! Looking for some company in the form of a pet to call your own? Then take advantage of the week long Adopt-a-thon taking place at the City of Brampton's Animal Services this week until October 6th.  During the week long event the cat adoption fee of $110.05 will be waived. When we visited the Animal Services on Monday October 1, 2012, 33 kittens had already found new homes so far during the Adopt-a-thon.  While we were there, we chatted with Danielle and her friend, (sorry we didn't get your name, but if you call us we'll add it in here),  who was deciding which little kitten she would be taking with her to join her other two cats waiting at home. It was a tough choice between all the adorable and playful balls of ...