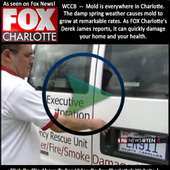 By David Snell 704.545.0098, CERTIFIED MOLD INSPECTOR, CERTIFIED MOLD REMOVAL.
(WWW.ExecutiveRestoration.Com)
Happy New year to all. Why do I get the feeling that Realtors do not like some  inspectors? Could it be because inspectors are paid to perform an inspection and if the house has problems or conditions that need addressing then, he or she puts them down in the report.  If an inspector is worth their salt then he or she is going to be detailed as well as find problems.  Look hard and long enough at anything and anybody and you will find faults. I get the feeling that some time the Realtor wants some inspectors to not be very thorough.   So, why do some Realtors not want the inspector to not be so thorough?  Even if there is a problem, most problems can be fixed.  If folks want a home sold, then is it not just best to have problems found, and have them repaired?  I have been told by some R...