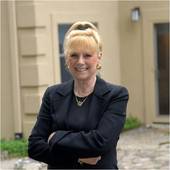 By Gay E. Rosen, As Real as Real Estate Gets!
(Julia B. Fee Sotheby's International Realty)
Ha! We eeee ll....... I was at a client's public open house recently in New Rochelle...  She really didn't want an open house.. Dug her feet in... I persisted, and persisted, and persisted, and she gave in... We had the usual nosy neighbors, people looking for 'other' people.... but at the end of the day, my client realized, she had survived the open house, it wasn't so bad, and we had sat and laughed around those visitors for the 3 hours.. all good!  (My client is always there for appointments -  another story..).... She brought down 3 Armani suits... Oh My!  'Gay, I want you to have these".  She says. " Pour moi? "  says I.....They are lovely.. and I will wear them with love and pride (once I let them out just a little....)..                                                 Another cli...