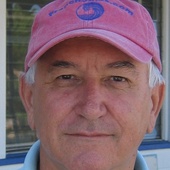 By Dustin A. Peters, Your "Northend & Gardens" Contact in Ocean City!!!
(Goldcoast Sotheby's International Realty)
Memorial Day Closing In ... here in Ocean City, New Jersey   So I've had that kind of week where I have far too much to do, not enough time to do it, a bit unhappy about how I'm feeling about most of everything, and last evening at home ... I suddenly figured it out.  MEMORIAL DAY IS CLOSING IN.  The rhythm of the island is changing ... slowly, but changing.  A bit more traffic every day.  Different kinds of telephone calls.  More problems with the telephone calls.  And that's not even counting some of the "contract pending situations" that I have as problems.  But I figured it out.  And I had a good night's sleep. Our son, Nick, called at 8AM this morning from Singapore.  It was 8PM ... 12 hours ahead for him.  Now Nick lives with his wife, Cori, in California about an hour north of Sa...