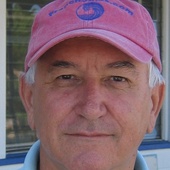 By Dustin A. Peters, Your "Northend & Gardens" Contact in Ocean City!!!
(Goldcoast Sotheby's International Realty)
Northend Grill ... on the beach in the Northend/Gardens on the corner of North Street & Beach Road in Ocean City, New Jersey (a new name, new management, great food, terrific views, experienced people)   I ran into Angelo a couple of weeks ago, and he told me he has opened "the NORTHEND GRILL" on the beach at the corner of North Street and Beach Road.  He and some friends operated another "Northend Grill" on the boardwalk in the Northend for quite some time.  Now a teacher and coach and working with his friend from before, Jim (a college coach in basketball in the Boston area), are bringing the Northend Grill back to life.  What a great idea!!! Well, this morning we finally got over to the beach restaurant.  Just as good as it always was ... a great cook (Angelo), excellent service, a b...