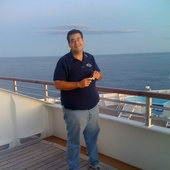 By ERIC TRAUTMANN, I Know NJ, I Sell it Everyday!
(Weichert Realtors HQ)
So after many emails and comments on my recipes I gured we would add last nights dinner to the list. It was once again a food network recipe for chicken marsala by Tyler Florence. The crimini mushrooms add an earthy , woody taste that is a nice undertone but can be removed if they are not a favorite flavor. The corn is simply steam fresh in a bag frozen from the grocery store. The potatoes are whole new potatoes with butter garlic, parsley, oregonoe, salt and pepper sauted in a pan while everything else is cooking on a medium heat till they are soft.   Ingredients 4 skinless, boneless, chicken breasts (about 1 1/2 pounds) All-purpose flour, for dredging Kosher salt and freshly ground black pepper 1/4 cup extra-virgin olive oil 4 ounces prosciutto, thinly sliced 8 ounces crimini or porci...