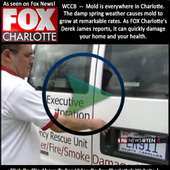 By David Snell 704.545.0098, CERTIFIED MOLD INSPECTOR, CERTIFIED MOLD REMOVAL.
(WWW.ExecutiveRestoration.Com)
I get this question,  all the time.David, how often should I change or replace my return air filters or clean them? We all know, what a Return Air Filter is.  Right?  Actually, some clients of mine, have no idea what a return Air Filter is.   Much less, some, have never changed one or cleaned one. I am amazed how often, people do not even know, what a Return Air Filter is or even,  how to change one.  Typically, you will see a grill or protective barrier over the Return Air Filter.  To educate others, I am going to talk about the Return Air Filters in the home and how often should you either clean them or replace them.  Wait a minute.  David, did you say clean them?  I sure did.  In the photo, you will see 2 kinds of filters.  1 is an Electrostatic filter, that you just wash and clean u...