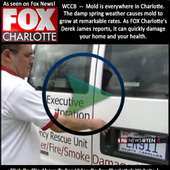 By David Snell 704.545.0098, CERTIFIED MOLD INSPECTOR, CERTIFIED MOLD REMOVAL.
(WWW.ExecutiveRestoration.Com)
Getting through a fire is terrifying enough right? But just because you surrive a fire does not completely mean that you are now out of harms way.  There are several health risks that involved after the after math of a serious fire and it is so important to address these issues immediately to aboid serious health complications in the future. Did you know that when materials do not burn up completely, a black residue made up of impure carbon particles is left behind?  Executive Restoration would like to inform others that this is called soot and you are bound to have quite a bit of it laying around after a fire is experienced.  Soot does more than causes stains and messes.  Soot poses a threat to your respiratory system.  These particles are small enough to make it through your respirato...