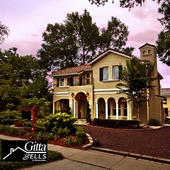 By Gitta Sells and Associates, Where home sellers and buyers always come first.
(Gitta Sells & Associates at Keller Williams Heritage Realty)
Is having a real estate agent something that you actually need? You have heard of others selling their own homes, and you may have considered doing it on your own as well. It is important to understand though, that almost everyone who tries selling their own home in Windermere is really leaving money on the table. Sometimes this can add up to be thousands of dollars, due to the lack of supervision by a real estate agent. Yes, obtaining guidance from a property agent can earn you more profit than you think. Thinking about a short sale? I can help you short sale your property and never pay the bank another penny. Send me an e-mail at gitta@gitta.com. I will contact you for a free consultation. Even though a real estate agent makes a commission on your home sale, if you compare the profit ...