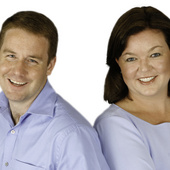 By Matt Fuller & Britton Jackson ...
(Zephyr Real Estate)
There are six penthouse homes at SF Blu, at 631 Folsom St. (corner of Folsom and 2nd). They each occupy three floors, with two levels for living space and one for the solarium and deeded roof deck. The main entrance for all of the penthouse homes is on the 21st floor of the building, but there is a secondary egress on the 20th floor, which is the private level with all of the bedrooms for each of the penthouse homes. All of the homes offer great views of either downtown, the San Francisco bay, or Twin Peaks depending on the orientation of the home.The building is located in the Yerba Buena subdistrict (neighborhood) of the South of Market Area. It offers great access to downtown, as well as numerous restaurants, the San Francisco bay, Ferry building and farmer's market, museums, and pl...