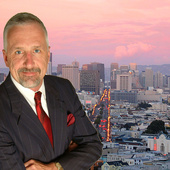 By Michael Ackerman, CRS, Top Producer, 24+ Years Experience!
(Vanguard Properties)
Famed Forest Hill Home Open Sunday 9/19 2 - 4 pm, 9/21 Tuesday 1 - 2:30, 9/23 Thursday 5 - 7:30 In 1954, Alfred and Mabel Salter (parents of Lucille Packard) commissioned the design a home for their family in what is now Forest Hill. Salter was a self-employed photo engraver, and Mabel kept his books for him while working as an attorney's secretary and dabbling, rather successfully, in investments. The design is attributed to Henry Hill, who was then an up-and-coming architect, making a name for himself with his unique style of architecture combining European modernism and the rustic landscape of Northern California to create what is now known as the Second Bay Tradition. His award-winning style was described by the San Francisco Chronicle as "flamboyant modernism." The property at 29 M...