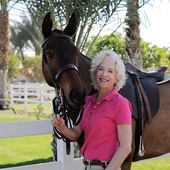 By Kimberley Kelly, SFR, HAFA, GREEN, I do Real Estate like I played polo-to WIN!
(HK Lane, Christie's International Affiliate, 760-285-3578)
I head into a Listing Presentation in the same manner that I would head into a classroom.  Prepared to educate my potential clients.  I work under the assumption that I am the professional and therefore will most likely have a better understanding of the local Palm Springs Valley market. I have found most potential Sellers to be much more educated about the market than they were years ago.  The Internet is largely responsible for this and it pleases me to think that people are doing their own research.  There is a consistent theme however, amongst certain Sellers..we've all heard it.. "But at the price you are mentioning to list at, I cannot Net the $100,000 I have to have!" There are two ways this presentation can progress..or not.  1.  I run realistic numbers, a realistic scenario wit...