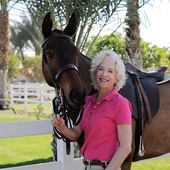 By Kimberley Kelly, SFR, HAFA, GREEN, I do Real Estate like I played polo-to WIN!
(HK Lane, Christie's International Affiliate, 760-285-3578)
La Quinta Realtors..my staff is rather unusual.  I am not referring to mental help, but rather great staff, support systems, trusted personnel..you get it, the strength of our performance rests on our "behind the scene" staff.  That being said, let me introduce you to my arm of the HK Lane Real Estate Co.  We refer to ourselves as the K2 Sells branch of the HK Lane Real Esate Co.  I'm here to tell you that as Sales slowed in 2008 and 2009, I've had to replace my more experienced people with the following willing, attractive, and yes, MUCH lower paid staff. Penney:  Office gossip, but with her energy, charm and youth, I have high hopes for a superb career in the industry.  Meadow:  Front desk:  Well...what can I say except that she has GREAT hair... Lumahei:  Office Mgr.  Strange name an...