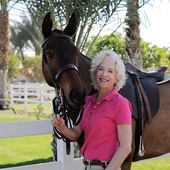 By Kimberley Kelly, SFR, HAFA, GREEN, I do Real Estate like I played polo-to WIN!
(HK Lane, Christie's International Affiliate, 760-285-3578)
Mortgage Delinquincies Up for 3rd Quarter..Nevada, California, Arizona and Florida lead the way..http://tinyurl.com/ykwzdow  I firmly believe that the delinquincies will lead to more foreclosures through most of 2010.  I also think that in my area of California, the Coachella Valley, and in particular La Quinta, Palm Desert and the Eastern Coachella Valley, this will be reflected in more drops in the mid to high priced homes especially.  These homes have not slid in price as much as the low end where there are plenty of buyers waiting for product.   Golf Course homes, and gated communities with newer homes will see some bank owned properties pulling their sales price/sf down.  I have Buyers that are awaiting this scenario.  They are looking to buy a second home, or move up into a golf c...