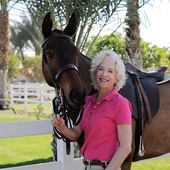 By Kimberley Kelly, SFR, HAFA, GREEN, I do Real Estate like I played polo-to WIN!
(HK Lane, Christie's International Affiliate, 760-285-3578)
FORECLOSED HOMES COMPETE WITH APARTMENTS IN INLAND EMPIRE;  La Quinta, Coachella Valley.   Don't expect to see much apartment construction in the Inland Empire any time soon. As everyone knows, a glut of foreclosed homes has flooded much of Riverside and San Bernardino counties, and those homes compete with apartments for tenants, according to a new report by real estate brokerage Marcus & Millichap. That's especially true in outlying areas such as Palm Springs, Perris and southwest Riverside County, the report said.  Certainly true in La Quinta, Palm Desert and the Coachella Valley in general..there are some low income housing projects and a few custom homes and equestrian estates being built, but nothing in the way of apartments.  Investors are seizing this opportunity to purchase for...