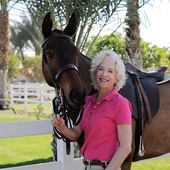 By Kimberley Kelly, SFR, HAFA, GREEN, I do Real Estate like I played polo-to WIN!
(HK Lane, Christie's International Affiliate, 760-285-3578)
Coachella Valley Property is Hopping!  The market has risen again..totally different conditions and terms, but it is definately alive.  La Quinta, Palm Desert, West Indio, golf course communities and high end properties..and yes, dare I say it..even vacant land is generating interest.Vacant land prices have dropped spectacularly..from a high of approx $250,000/acre in the East Valley to a range between $30-50,000/acre now.  That is what is driving interest again.  Developers are looking as always, but also small farmers, equestrian riders, date farmers, ag farmers.  They are able to pick up parcels at a reasonable price, with plentiful water, and amazing views.  I don't see building picking up for the next 12 to 24 months due to a standing inventory of homes still out there, but buying ...