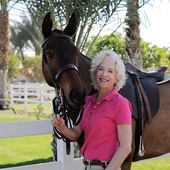 By Kimberley Kelly, SFR, HAFA, GREEN, I do Real Estate like I played polo-to WIN!
(HK Lane, Christie's International Affiliate, 760-285-3578)
If you're an outdoor person, and you can take the heat, summer hiking is awesome in the Palm Springs Valley.  But..hikers beware!!  Every single season, we have a brave, but crazy soul who doesn't believe the heat can beat them up.  Wrong!  At least one person is air lifted off a cliff somewhere here in the desert, when they get dehydrated, disoriented and panicked.  Use your heads people!  You cannot beat the heat! However, we have amazing hikes here in our Valley.  Here are three of my favorite hikes.  I much prefer hiking in the desert when it's a bit cooler, but I do still go out.  If you leave early in the morning or after twilight in the evenings and be sure to pack lots of water, it's still stellar.  The summer desertscape has it's own beauty.  Summer flowers and summer wild life...