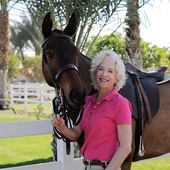 By Kimberley Kelly, SFR, HAFA, GREEN, I do Real Estate like I played polo-to WIN!
(HK Lane, Christie's International Affiliate, 760-285-3578)
The rural end of the Palm Springs Valley starts in La Quinta, and moves easterly through the cities of Vista Santa Rosa, Indio, Thermal and Coachella.  It's much more rural than the Westerly border of our Valley...the City of Palm Springs, and a unique place.  It is made unique and special because of the startling Views, the proximity to the Western Mountains, tons of golf courses and ONLY in the East Valley, the HITS horseshow, polo fields and of course our Internationally acclaimed Coachella music festival.  Wow! The end of the muggy, hot summer is coming up..we made it through our Monsoon like flash flood, and are heading into our last REALLY hot month of summer.  September.  I tell all my new buyers to button down and be prepared for their first August and September experiences beca...