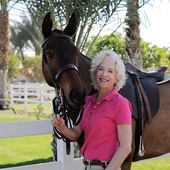 By Kimberley Kelly, SFR, HAFA, GREEN, I do Real Estate like I played polo-to WIN!
(HK Lane, Christie's International Affiliate, 760-285-3578)
The city of La Quinta in the East side of the Palm Springs Valley, is known for many things.  It's general beauty, the way it's laid out at the base of the Santa Rosa Mountains, and that it's named after the la Quinta Hotel.  It is also known as the "gem" of our Valley, as well as one of the Valley's Golf Course capitols.The Tradition in La Quinta, is one of the City of la Quintas' Golf Course Communities that is a local favorite.  Nestled on what used to be a big horn sheep preserve, right next to the La Quinta Cove, the club and golf course were designed by Arnold Palmer.  In fact, Arnold Palmers, the popular restaurant, is just across the street!  Offering an 18 hole course, that is often visited by the local Bighorn sheep and their babies, as well as a 9-hole par 3, a friendly atmos...