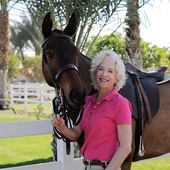 By Kimberley Kelly, SFR, HAFA, GREEN, I do Real Estate like I played polo-to WIN!
(HK Lane, Christie's International Affiliate, 760-285-3578)
HAFA short sale CLOSED; North La Quinta, CA.  Closed yesterday after less than 120 days.  Wells Fargo held the note, and I generally have pretty good luck with Wells Fargo Short Sales.  This one came to me about 2 weeks before Sale Date, so once I got it postponed, we were able to move forward. Sellers had already gone through the Loan Mod hoops and been turned down, so Short Sale was the final option. Located in the Topaz development of North La Quinta, which is a very desireable area.  Great schools, lovely streets, family area, near shopping and bus transportation.  Built in 1994, with 3bd/2ba a pool/spa and tons of upgrades put in by the Seller, this one didn't sit long and there were multiple offers.   Listed at $228,000  CLOSED at $228,000.  Cash, homeowner, not an investor...that...