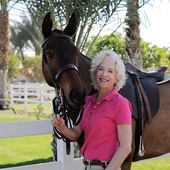 By Kimberley Kelly, SFR, HAFA, GREEN, I do Real Estate like I played polo-to WIN!
(HK Lane, Christie's International Affiliate, 760-285-3578)
I had a recent opportunity over the past weekend to show property at the gorgeous Madison Club in La Quinta, CA.  Wow!  There is luxury and then there is The Madison Club.  First off the location is stellar for privacy and exclusivity, but not so far away from the shopping and restaurants.  The entrance is across from the Eldorado Polo club off of 52nd avenue.  The entrance alone is startling in it's beauty.   Drive up a winding driveway, past the Sales Office, where a lovely guard gate complete with burning fireplace welcomes you.  Once inside, leave the desrt behind for a couple hundred acres of rolling, elevated greens and lush landscape complimented by lakes and water features.  It is really something to see. The Madison Club is being built out by The Discovery Land development grou...