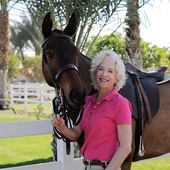 By Kimberley Kelly, SFR, HAFA, GREEN, I do Real Estate like I played polo-to WIN!
(HK Lane, Christie's International Affiliate, 760-285-3578)
It's been so cold here in the Palm Springs Valley, that we desert dwellers just don't know what to do with ourselves!  42 degrees during the day???  I make sure to look at International weather info. to remind myself how lucky I am!  It's warming again, and supposed to be back to a balmy 80 by Tuesday.   Went to a New Years' Eve party last night at The Hideaway Golf Club in La Quinta.  Gorgeous community, and it is sizzling right now!  Lots are selling.  New Homes are being built, sold,and more new homes built. Resales of both Villas and single family homes are smoking..and season is just beginning!  Stats for the past 6 months.... Lots and Land: 3 are currently in escrow and 9 have been SOLD.  Ranging in size from approx. 13,500 sf to approx. 25,000 sf, the prices will start at about $...