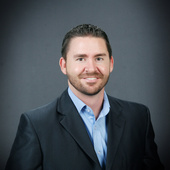 By Joshua Schaubach, e-Pro Your Yuma, AZ - Realtor Only a Call or Click Away!
(ERA Matt Fischer Realtor)
For all you pet lovers out there Dog Park in Yuma, AZ  is now open.  It opened on October 3rd, 2009 and is open daily from dawn to 9:00 PM Wednesday through Monday and closed on Tuesdays for maintenance.  Yuma, AZ Dog Park is located at 1705 E Palo Verde Street, behind Wal-Mart on Pacific Avenue. Dog Park in Yuma, AZ  is a wide open space of a little over 3 acres for your pet to roam and visit with other friendly dogs and people.  It has many park features including double gates to bring your dogs into the fully fenced in area of which once they are in the enclosed fences you are free to take your dogs off leash and let them go crazy.  The park also features water stations and pet waste disposal stations for your convenience.  Also considering you will most likely tire before your dogs ...