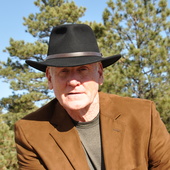 Real Estate Broker/Owner
Raymond Runyan
W. Raymond Runyan
Peyton, CO

—

Save More Real Estate
Military Real Estate Sales, Woodland Park, Peyton, Falcon, Black Forest, Divide, Florissant, Black Forest Real Estate, Home Staging, Colorado Springs Real Estate, Peterson AFB
Get to know Raymond Runyan
Save More Real Retate, Save More Properties and S.M.R.E's primary marketing area is El Paso & Teller Counties, which includes Peyton, Black Forest, Falcon, Woodland Park, Divide, Florissant & Cripple Creek. Our specialty is representing sellers with properties valued at $250,000 and up, with a primary focus on estates and luxury homes in the million plus range. Save More Real Estate's sister division, S.M.R.E. is the only 'Performance Based' real estate firm in Colorado. That simply means that our compensation/commission is directly related to how quickly we have a property under contract and what percentage of the last listing price the accepted offer represents.
Listed homes are featured in Realtor.com, Truila, Zillow, Facebook, You Tube, Linkedin, Homes.com and a variety of other syndicated real estate search sites. We market homes locally, statewide & nationally. Select properties are also marketed on international search sites. Most listings are featured with Virtual Tours and select properties listed with S.M.R.E. have professionally produced video presentations.
Sellers are provided with weekly activity reports that include the number of site visitations, competitive homes, new listings in their area, price reductions for currently list properties in their area, cancelled competitive listings and 'Open House' results when applicable.
Need to know more? Visit our website at: www.SaveMoreProperties.com or email: WRR@SaveMoreProperties.com or Call Me at: 719-686-1112
Certifications
Even in early 2013, 1000's of Colorado property owners are still struggling to keep up with their mortgage obligations. ARM Resets, Negative Equity, Loan Modification, Foreclosure, Short Sales, and REO's, are just a few of the terms that can make home ownership, especially now, a nightmare. Real Estate professionals across the country claim to see the value in assisting homeowners with their 'distressed' properties. Unfortunately only a small percentage of these 'experts' are adaquately prepared and educated to provide the services that are required in these chaotic times. You the homeowner have many options to help you with a 'Short Sale' or even the dredded 'F' (foreclosure) word. I am specifically trained in this complex and sometimes confusing field and can explain those options so you can chart your own future instead of letting the bank decide for you. However, I can't help you if you don't Make The Call.
"When you find yourself in a hole, STOP digging".
Need to know more? Visit our website at: www.SaveMoreProperties.com or email: WRR@SaveMoreProperties.com or Call Me at: 719-686-1112
Introducing a fresh new look for your Profile.
Click the 'Edit Profile' button below to enter 'Edit Mode' and continue the tour.