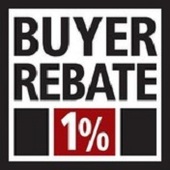 01109812
Real Estate Broker/Owner
Todd Beardsley
1% Buyer Commission Rebate
Palo Alto, CA

—

Menlo Atherton Realty
530 Lytton Avenue
2nd Floor
Palo Alto , CA 94301
---
When you purchase a home through Menlo Atherton Realty using our CASH REBATE program you will receive a commission REBATE of 1% of the purchase price of the home at the close of escrow.
Get to know Todd Beardsley
Specialties
BUYERS: Save 1% on your next home purchase with our home buyer commission rebate program!
SELLERS: We offer our comprehensive listing services for only 1%. Our reduced rates typically save sellers 1% of the sale price!
Check out our yelp reviews here: http://www.yelp.com/biz/todd-beardsley-menlo-atherton-realty-palo-alto-2
Todd's primary strengths are in marketing and negotiation. He believes strong negotiating skills and mastery of multiple offer situations are critical and should be the top qualities clients look for in an agent. Todd strives to continually improve his processes for success in multiple offer situations.
With decades of construction experience, Todd brings a wealth of knowledge to his clients seeking to remodel or build new. He concentrates his efforts on working with Buyers and Sellers in the communities of Palo Alto, Menlo Park, Atherton, Los Altos, Mountain View but often does deals as far north as San Francisco and as far south as Saratoga, Los Gatos and San Jose.
Todd strives to continuously integrate the latest real estate technologies into client communications and transaction management.
Biographies
Todd Beardsley | BRE License #01109812 | Todd Began his Real Estate career immediately after graduating from San Jose State University with a MBA (1990) in Marketing. Currently residing in Atherton, Todd is a lifelong resident of the South Bay and the Peninsula which provides him with a comprehensive understanding and knowledge of the area. Todd has continually worked in residential real estate for the past 22 years and became the Managing Broker/Owner of Menlo Atherton Realty in 2006. He has extensive experience as a Sales Agent and Managing Broker as well as a long history of working with Builders & Developers of residential properties. Todd brings a wealth of knowledge to his clients while providing them with expert guidance and negotiation through all phases of the buying and selling processes.
Together, Todd & a team of professionals form positive partnerships with each of their clients, whether buying or selling a home or an investment property. Their ultimate goal is for every transaction to be a success. Todd is a forward-thinking, dedicated, professional agent providing his clients and provides an extremely high level of customer service and progressive marketing every time for every client. This is a lofty goal, but you can be confident he has implemented the systems and processes necessary to meet and exceed this goal. Todd & his team bring decades of experience in the fields of real estate sales, interior design and customer service to every transaction. Your expectation of professional service and integrity are further assured by their involvement in the following associations: Silicon Valley Association of Realtors, California Association of Realtors, and National Association of Realtors.
Community investment, involvement, and familiarity are also important factors in helping you achieve your real estate goals. Menlo Park, Atherton and Palo Alto are Todd's community. He is active in his community and serves on the following committees: Menlo Park Atherton Education Foundation, Atherton General Plan Committee, and The Atherton Environmental Programs Committee. 
Long-time residents of The Peninsula and parents of two high school age children, Todd and his wife Inna bring with them a comprehensive understanding of the area as well as an appreciation for the importance of community. This familiarity allows them to provide clients with the area insights necessary to make important Real Estate decisions.
Todd is a licensed real estate agent (1991), broker (2006) and holds a B.S. in Finance as well as an MBA in Marketing (1990) from San Jose State University.
Inna is a licensed real estate agent (2007) and holds an M.A. (1992) from University of Moscow.
History
Since 1991 Todd operated his business on a traditional commission basis. In response to the changing needs of the local real estate market he transitioned to a commission rebate model in 2006 when he and his wife Inna established Menlo Atherton Realty based in Atherton.
Below are two of the market changes brought about by the internet and the widespread dissemination of MLS data which provided the impetus for Todd's new Real Estate commission model based on offering a home buyer commission rebate of 1-1.5% of the purchase price of the home:
1.    Agents are no longer the "gatekeepers" of MLS data which has resulted in much less buyer-agent contact. This means agents who have effectively integrated the latest technologies can handle a greater number of clients while still providing a high level of customer service at the critical junctures of the search-buy process.
2.    With buyers now in control of the data they no longer wish to have agents drive them around to look at homes.
Menlo Atherton Realty is now a team of five comprised of Todd, his wife Inna, Grace is the transaction and listing coordinator, Chitra handles web marketing and Caroll takes care of the web site.
Todd Beardsley's Blog Posts
Home Buying
–

almost 10 years ago
Certifications
Menlo Atherton Realty is a full-service firm covering the greater Palo Alto Area.If you purchase a home through Menlo Atherton Realty using our CASH REBATE program you will receive a REBATE of up to 1.5% of the purchase price of the home at the close of escrow. Home SELLERS benefit too from our discount real estate commissions. Menlo Atherton Realty will sell your home for 1.5% commission. You will receive full service attention throughout the home selling process. Menlo Atherton Realty can SAVE YOU TENS OF THOUSANDS OF DOLLARS on your next transaction. Contact us to get started.
A Real estate transaction should be a stress-free, exciting experience. Menlo Atherton Realty offers expert knowledge and valuable experience whether you are buying or selling a home in the Greater Palo Alto Area. Finding the right agent to help you with your Palo Alto real estate needs can be challenging and intimidating. Let us help you build a foundation of knowledge which will provide you with comfort and confidence. Menlo Atherton Realty will ensure you are represented with the utmost professionalism and diligence. Commission discounts and buyer rebates typically save consumers many thousands of dollars. If you are preparing to buy or sell a home in Palo Alto, you can save thousands of dollars with no sacrifice in service. Find out how our 1.5% listing or buyer commission rebate program could enhance your bottom line by as much as $100,000. If you are selling, Menlo Atherton Realty will list your home for 1.5%. If you are buying, we will rebate back to you 1-1.5%% of the purchase price of the home. We are ready to help you with all your greater Palo Alto real estate needs and appreciate the opportunity to earn your business.
Testimonials for Todd Beardsley
Todd and Inna are very responsive in driving the buying process for the second time. I would and have recommended them to my friends.

I had a business client, James, who I knew to be successful in commercial real estate. So when my wife and I were ready to buy a house, I called James for a residential real estate agent and he told to call Todd Beardsley.
Todd and Inna Beardsley were instrumental in helping my wife and I navigate my first real estate transaction -- at below the asking price of $1.3 million. Todd educated us while keeping everything as simple as possible. He always returned our calls or emails immediately. He and his wife Inna used effective online tools so that we could move quickly with the back and forth of negotiations between buyer and seller.
In fact, Todd recommended that we upgrade from our banker to that banker's boss, which made the difference in our loan closing on time.
In short, Todd provides you with a discount broker price for what we considered full service. Thank you, Todd and Inna Beardsley.


Todd and Inna were very patient and knowledgeable. Responses were always timely. Most importantly, we believe their negotiation skills won us the bid!! We trust them and won't hesitate to recommend them.

Ford Kirschenbaum

12/26/2013

Please consider Todd to represent you as we had an extremely positive experience.
We had originally opted to purchase our future home with a veteran agent from Coldwell Banker. We were quickly discouraged because it was soon made clear that she had her best interests in mind and not ours.
We found Todd as he was representing a seller at a property of interest in Menlo Park.
We were impressed with his knowledge and soon started working with him for our home searches. We did a lot of research on-line and identified a few properties of interest.
We really appreciated Todd's time that he put into each potential home - meeting us at a few properties, writing up an offer and our obtaining a great deal with absolutely no pressure.
Todd is upbeat & worked much harder than that "veteran" pushy Coldwell Banker agent.
Now, just over 1 year later our home price has surged by ~$250k!! On top of all of that, we were able to obtain 2% back from the seller at closing.
If you are in the market to buy or sell, I'd strongly encourage you to contact Todd.


Todd Beardsley is an expert in the San Francisco Bay Area. He helped us sell our home quickly and easily, holding our hand throughout the entire time. I wouldn't hesitate to hire him again.

Todd helped us buy our house in Menlo Park while we were living in Washington DC. He went above and beyond what any realtor we have ever worked had done. He made the process enjoyable. If we ever move back to the area again we will definitely use Todd.

I really appreciated Todd's fast and plentiful expertise; it allowed me to be more bold in what I wanted for my first home. He was very knowledgeable and objective, and patient through the whole process. I would definitely consider him for future real estate representation.

We had such a great experience purchasing our first home with Todd and Inna. They were available at all times and provided well thought out answers to our endless questions. Todd's analysis of the properties we were interested in was extremely useful and helped us eliminate or proceed with certain homes. Todd and Inna gave us practical advice and never pressured us to put in an offer or to close a deal. When we did go ahead with an offer, Todd's expertise and skillful negotiation got us the house. They offered an exceptional level of service and were such a pleasure or work with throughout the entire process.

I have purchased homes three times and Todd and Inna were instrumental in helping me purchase in a very competitive market at Palo Alto and Los Altos Hills. Todd is an excellent negotiator. They are very responsive and helped me in getting the home repaired and ready for a move in. They are very tech savvy and can run the whole process online. They spent a lot of time with my lender to get the loan approved as the lender kept coming back for more paperwork including minutiae on the paperwork. I highly recommend Todd for your next purchase.

Really great service and great people. We have recently purchased our first home. Inna, Natalya and Todd were really helpful on all steps of the process. You can have more answers and more advise than you usually expect.
Good communication, proactive on all stages. Expect expertise in all areas including legal.
Introducing a fresh new look for your Profile.
Click the 'Edit Profile' button below to enter 'Edit Mode' and continue the tour.