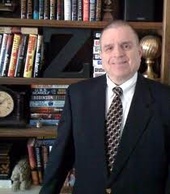 Services for Real Estate Pros
Bill Zumwalt
Tax Coach, CPA
Tulsa, OK

—

William T. Zumwalt CPA, CTC "The Tax Coach for REALTORS"
My name is Bill Zumwalt. I'm a tax guy, and I specialize in working with Realtors® just like you. But I don't just file tax returns. I give you a plan to save on taxes. I become your Tax Coach.
Get to know Bill Zumwalt
My name is Bill Zumwalt and I am a third generation Certified Public Accountant. My grandfather, EF Zumwalt passed the very first CPA exam in the country held in 1918. His Oklahoma certificate is number 23.

As you may guess, I grew up watching my father and grandfather practice "old school" accounting. Putting the "right" numbers in the "right" boxes and preparing the "right" return. Problem is that they were recording history. They did little proactive planning for their clients.

After I graduated from the University of Tulsa, I went to work for Thrifty Car Rental in Tulsa as their Controller. As I worked my way up to Chief Financial Officer, I saw how important proactive planning could be. We couldn't afford to wait for history to happen. We had to make our own history, in a brutally competitive market.

When I later bought out my father's practice, I resolved to take that forward-thinking focus to my own personal clients. Why shouldn't self-employed individuals and real estate agents like you take advantage of the same money-saving concepts and strategies as "the big guys"?

Over the years my emphasis has been to work proactively with realtors to help them legally pay the least amount of taxes possible. A Tax Coach best describes how I work with my clients. When a real estate agent gets a new client they will start off by gathering data and interviewing the client. The purpose of the interview is to become familiar with the needs, goals, and wants of the client. Are they a first time buyer, a move up, or downsizing? Do they need 3or 4 bedrooms, how many baths, open floor plan, upstairs master, lots of storage, granite counters etc. Now the professional realtor will survey the inventory of homes that fit that criteria and their budget. Next the agent will hold their hand through the loan process, inspections, and government rules.

Well guess what, my job is very similar to what realtors do for their clients. I look at prior years' tax returns gathering data. I interview the agent to see if they are new to the business (First time buyer). From an income basis, are they moving up or are they at the executive level. Next what are their wants and needs and how can I find tax strategies to help meet those goals. Next I guide them through the government red tape by filing the proper documents and returns and holding their hands along the way..

There are two aspects to working with realtors. One is education. A realtor is a business owner. They are the sales department, they are the president, the janitor, the problem solver, the negotiator, and yes, the accountant. Agents are well trained with regard to sales techniques whether from broker training or continuing education. Their experience gives them the knowledge to help know how to close a deal. But no one is training or educating them on how to handle one of their biggest expenses – taxes. They have a marketing plan and maybe a business plan. So why not a tax plan.

One should not expect real estate agents to become tax accountants. But agents need to know what is required of them as business owners to comply with the IRS rules. Many times I hear agents tell me about what someone said at the office or they saw it on the internet that they could deduct some outlandish expense. This is one reason why educating agents about such things as the home office deduction, vehicle expenses and required record keeping, meals and entertainment documentation, retirement plan availability, and, one of the most important areas, the correct choice of business entity is important.. Should you be a sole proprietor, an LLC, or and S Corp. Wrong choice of entity can cost you thousands of dollars every year.

The second aspect to working with real estate agents is finding and implementing tax saving strategies. Setting up plans to hire family, set up pension plans, home office deductions etc require making sure the proper documentation is in place. Most often I see agents who have incorporated but have no clue what to do next or how to properly record transactions. They have never been told to have their commission checks assigned to their new company. The list goes on and on.
Helping Realtors with Tax Problems, Tax Solutions, Tax Preparer, REALTOR Tax Accountant.
Bill Zumwalt's Blog Posts
Lending / Financial
–

about 2 months ago
Lending / Financial
–

over 7 years ago
Lending / Financial
–

over 7 years ago
Lending / Financial
–

over 7 years ago
Certifications
When I'm not focusing on saving you money with tax management and helping you with financial planning I enjoy my life. When I have time I sneak out to golf and bowl. My passion is my cars ever since a teenager and my 60's muscle cars they seem to give me a place to escape and make the world right. There is something to be said about about a boring CPA behind the wheel of a 900 HP Z06 Corvette!
There is another side of me I enjoy a murder mystery or military suspense novel.
Organizations I belong;
Women Council of REALTORS®
Greater Tulsa Association of REALTORS®
Bartlesville Association of REALTORS®
Oklahoma Association of REALTORS®
Oklahoma Chapter of CRS
Helping Realtors with Tax Problems, Tax Solutions, REALTOR Tax Preparer, REALTOR Tax Accountant
Testimonials for Bill Zumwalt
"I just wanted to say "thank you" once again for your quick response to all of my questions and needs over the past 10+ years. But, I'm especially thankful in the way you responded to the issues on my 2006 tax return when the IRS was proposing additional taxes totaling over $34,000! I know the issues could not have been resolved without your help."

San Antonio, TX
Introducing a fresh new look for your Profile.
Click the 'Edit Profile' button below to enter 'Edit Mode' and continue the tour.