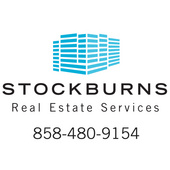 Services for Real Estate Pros
Blake Stockburn
Del Mar, CA

—

Stockburns Real Estate Services
2010 Jimmy Durante Boulevard
Suite 220
Del Mar , CA 92014
---
A family owned, San Diego based management firm - specializing in providing true service, by being humble, working hard and by treating every client, employee and vendor with respect and sincerity.
Get to know Blake Stockburn
Stockburns Real Estate Services is a management firm of dedicated real estate professionals located in San Diego, California. Our focus is on creating true partnerships with our owner clients, as well as the volunteer leaders of our association clients. We are here to make you look, not just good but outstanding! We pride ourselves on being a valuable customer-service driven asset to each client and it's what forms the foundation of our corporate culture.
The Stockburns Culture
The Stockburns culture is the foundation upon which we strive to create value for our clients and deliver exceptional service to their leaders, members and other stakeholders. We hope that the ideals embodied in these words will resonate with you - after all, sharing common values is the cornerstone for a strong and healthy partner relationship. A strong culture reflects an organization's dreams and aspirations and ours is to be the most trusted and sought-after solution for property management and professional real estate services, which is based on a distinguished and stellar reputation for doing great and important work for our clients and for providing uncompromised stewardship for their long-term prosperity. This is the Vision we work every day to achieve. Our company's character is defined through the essential and enduring tenets and principles that guide our work and relationships with our clients and each other and they will not be compromised for financial gain, or short-term expediency. These Chosen Values are best articulated through a pledge that we make to each of our client organizations:
Our Pledge
To be intensely devoted to Client Stewardship by always striving to do the right things for our clients, even when those things are not the easiest, or the most obvious. As trusted stewards, we will become deeply vested in each client's purpose, goals, values and long-term success. We will dedicate ourselves to a complete understanding of our client's needs and goals, as well as their customs and beliefs. We also remain firmly committed to our clients for the long run, in good times and in bad. To deliver extraordinary value and service to our customers, who are the leaders, members and other stakeholders of our client organizations. To us, a customer is also any colleague or business partner supporting a client organization customer. Customer Care means doing it right (achieving excellence in all that we do) and doing it with speed and a sense of urgency. To take care of our people so that they can take care of our clients. People Care means offering our employees a challenging yet harmonious working environment where they can grow personally and professionally, make valuable contributions and reach their utmost potential. To readily give Trust and strive hard to earn it. The foundation upon which all effective relationships are based, we know that trust ultimately generates success both for our client organizations and our company. To be relentless in our commitment and pursuit of Communication that is open, honest, frequent, credible, clear and direct. We will tell the truth. Always. Period. To be committed to Growth in our client organizations. This means we will actively help our client organizations excel in the three fundamentals of growth: creating and maintaining a compelling and unique value proposition with members; being "easy to do business with"; and, communicating and marketing in meaningful, effective, consistent and frequent ways. To ensure Cohesiveness and Alignment throughout our company. This is more about attitude, teamwork and cross-functional performance than it is about processes or reporting structures. This means that we will serve clients holistically, striving hard to ensure that all parts of our company are connected and working in harmony so that our performance is productive and cost effective. Simply stated, we will not let formal hierarchies and organizational boundaries get in the way of serving clients, solving problems or simply doing the right thing. To exude Passion in our relentless pursuit of both knowledge and understanding of our client organizations, as well as in our service to their leaders, members and other stakeholders. Our passion springs from the belief and deep conviction that what we do on behalf of our clients is important and meaningful— and that we are making a difference. To nurture the power of team performance but embrace Individual Responsibility and Accountability for actions, commitments and results. This means that each of us is willing to step outside our own sphere of comfort, organizational duties and immediate influence to help meet client needs, solve problems, or simply do the right thing. To expect great things of ourselves, yet work to constantly expand our expectations by remaining committed to continuous Learning, renewal and self-improvement. We will also strive hard to leverage our collective knowledge and experience to benefit our clients. We accomplish this through ongoing intra-company sharing and networking, and in the development and use of a centralized knowledge repository of leading practices, tools and lessons learned. Consistent with evolving client needs and expectations, we embrace incremental as well as transformational change in ourselves and in our business.
Culture aligns the hearts and minds of people. At Stockburns Real Estate Services, we believe that articulating and preserving an authentic culture is critical to our ability to best serve our clients. Our culture helps us attract, motivate and inspire some of the best and brightest people in the community. It drives superior levels of performance, and helps ensure that our actions are tightly geared with the strategic and tactical needs of our client organizations. It is what truly makes us different, and helps us earn their trust and confidence each and every day.
Thank you for allowing us to serve you.
The Stockburns Team
Certifications
Association Management Services
Stockburns Real Estate Services provides a complete selection of services for community associations. You and your board of directors determine the level of services that will best serve the needs of your association and we will prepare a service plan accordingly. We can provide a full management service to an accounting only service. We carry out a wide range of functions, including: Read More at www.stockburns.us/management/
Commercial Brokerage Services
Stockburns Real Estate Services provides a full spectrum of commercial real estate services for clients with higher expectations. Every client has unique needs, and each property has unique challenges. This is why Stockburns customizes the real estate solution for each project, be it for developers, investors, or business owners seeking to maximize the performance of their real estate investments. Read More at www.stockburns.us/commercial/
Residential Brokerage Services
We are proud of our team of professionals, who are service-driven and passionately share in your goal to find the home that's right for you in the manner that fits your lifestyle. We offer our agents and their clients the benefit of the latest in technology that is without comparison in the marketplace. Read More www.stockburns.us/residential/
Introducing a fresh new look for your Profile.
Click the 'Edit Profile' button below to enter 'Edit Mode' and continue the tour.