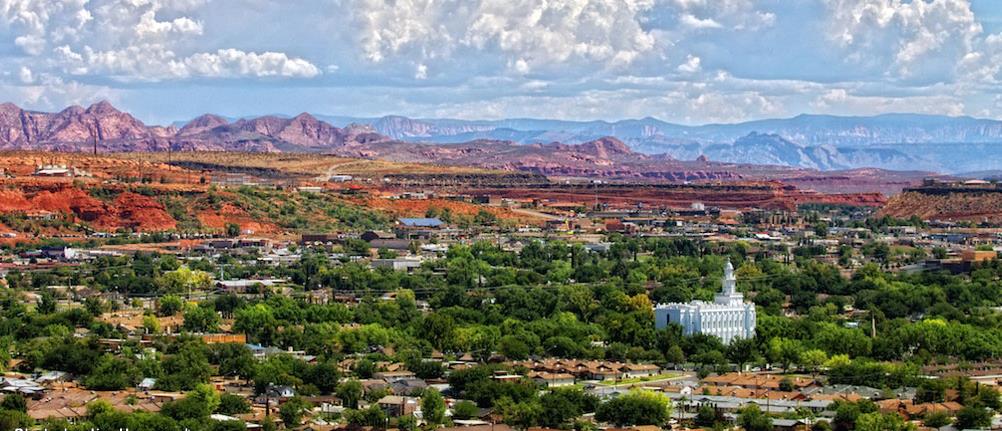 Get to Know Scott Hansen
 

I  am a full time real estate agent at Coldwell Banker Premier Realty, Associate Broker, Realtor, ABR, CRS, GRI, e-PRO, SFR, SRES. Licensed in Utah.

I have over 40 years of sales and marketing experience.
I am  a St George, Utah native and know the area and market very well. I am here to answer any questions or concerns that you may have.
When you are buying or selling property in today's real estate market, it's important to have confidence in your real estate professional. My commitment as your local REALTOR® is to provide you with the specialized real estate service you deserve.When you are an informed buyer or seller, you'll make the best decisions for the most important purchase or sale in your lifetime. That's why my goal is to keep you informed on trends in the marketplace using the latest statistics in your local area. With property values continuing to rise, real estate is a sound investment for now and for the future. As a local area expert and native of St George, with knowledge of the communities, my objective is to work diligently to assist you in meeting your real estate goals. If you are considering buying or selling a home or would just like to have additional information about real estate in your area, please don't hesitate to call or e-mail me.
St George Utah Real Estate:
I list and sell Southern Utah real estate within the following cities and their communities. If you would like more information about these areas, click on the links or visit my St George Utah real estate website directly.
St George, Utah Real Estate, Santa Clara, Utah Real Estate, Ivins, Utah Real Estate, Washington, Utah Real Estate, Hurricane Utah Real Estate, LaVerkin Utah Real Estate 
Certifications
Specialty: Residential Sales, Luxury Homes, First time home buyers, REO's / Bank Owned, Short Sales, Distressed properties, Horse properties, Relocation, Land, Commerical Properties. Investment Properties.   Certifications: SRES, GRI, ABR, SFR, CRS, e-PRO, Associate Broker.   Awards: Coldwell Banker Presidents Circle (Top 5% of Agents Nationwide, 2008 Coldwell Banker Premier Realty #1 in Sales, 2009 Coldwell Banker State of Utah #1 in Sales, ABR ( Accredited Buyer's Representative), CRS ( Council of Residential Specialists), GRI ( Gradulate Realtor Institute ), SFR ( Short Sale & Foreclosure ), SRES ( Senior Real Estate Specialist ), e-Pro ( Internet Specialist ), Coldwell Banker International Diamond Society. Coldwell Banker Sterling Society, Coldwell Banker Bronze Society.
Gene,
09/12/2013
I was very pleased with the way Scott advertised my home. With pictures of the interior and exterior on the internet, as well as the other usual places. I was pleased with the way that he kept me apprised of the showings and any interest in the property. I found him most helpful and personable and could highly recommend him. Thank you Scott
Mike & Carol G.
09/11/2013
After making the decision to purchase a summer home in Washington County we obtained Scott Hansen as our Real Estate agent. He researched many homes and property in the area and had many options for us to choose from. He took us on a tour from Pine Valley to the Washington Fields. After finding the perfect place he did everything to make the purchase process easy for us. He was very professional and everything we asked of him he completed in record time. The service he gave us was excellent. We would highly recommend him as a professional and caring Real Estate agent.
Dick & Jane,
09/09/2013
I am writing this to express our opinion and feelings for Scott Hansen. I first contacted Scott via the internet. We exchanged Emails for a week or so before my wife and I traveled to St George. Scott met us at the time and place designated. We were impressed from the very start; a well dressed, courteous young man met us, obviously a first class professional. From our on line correspondence, Scott knew roughly what we wanted and the price range and had searched what he had available. For three days Scott drove us around the area, I do not believe that we missed much. We had heard of Sun River but was reluctant to start a new again. Scott drove us there and we fell in love with the place, the rest is history. We settled on a new home in Sun River. I value friendship and am proud to say Scott is my friend. After our house sold (unexpectedly fast) we were stuck for a place to live. Once again friend Scott helped us secure a rental. Our ordeal would have been a disaster without Scott. We would recommend Scott to anyone; my wife and I consider him a trustworthy friend.
John C,
09/05/2013
I would like to say that I found Mr. Hansen to be a pleasure to do business with. He could not have been more helpful and obliging. Nothing was too much trouble for him. He answered all my questions and took all the time needed to find and show me homes I would like. I would recommend him to anyone who is in the market for buying or selling property and would certainly call him if I decide to move again. I do not normally recommend people, but in Mr. Hansen's case I would not hesitate at all. He is thoroughly professional, pleasant and helpful at every point in the process of buying a home.
Betty & Bill,
09/02/2013
Scott, We want to thank you so very much for helping us to locate our new "retirement" home in Washington. The home is exceptional and we are so pleased. We wanted to let you know how we felt about the service you extended to us. First your responses to our e-mails were wonderful. You showed consideration and only sent us homes that you thought we would be interested in seeing. The two days you spent with us were so very informative. We had not come to St. George to actually purchase a home; we had come to see what was available in our price range, what the town and surrounding area was like and to get a general idea of living in the area. Not only did you show us some gorgeous places, you showed us the one we actually put a bid on, which was accepted, and sent us scurrying back home to put our house on the market. You did not pressure us, you showed what we asked to see. One thing that has impressed me so much about the area: everyone we have met so far has been extremely nice and friendly to us. I can ramble on much more, because we did not experience one negative thing about your service to us. Again, thank you so very much
Pat S,
08/29/2013
I would like to give Scott Hansen the highest recommendation possible. I had not met Scott when I began searching the internet for available homes in St. George. Scott contacted me and immediately began sending me information to assist in my home search. I made two trips to St. George to view properties and both times Scott was well prepared and helped me make the best use of my limited time. He understood the type of property that I was interested in and we were able to find my dream home on my second trip. Once I had decided on the home, Scott worked tirelessly to help make my dream a reality. I could not have asked for a more thorough or supportive Real Estate agent. I think that he was as thrilled as I was when the papers were finally signed. Scott goes the extra mile and treated me like I was his most important client. I would recommend Scott to anyone looking for property in the St. George area. I not only feel I had
Carol Ann,
08/26/2013
Scott, working with you on the purchase of my home was a great experience. You were always there for questions and support. You made my transition from California a very smooth transition. I thank you for all your help, support and hard work, always following up on the progress of my home. Thanks again...............
Howard & Karen,
08/21/2013
When we arrived in St George to purchase a home, we had very particular requirements and limited pricing and a short period of time. Scott showed us several properties and we made an offer on one home. That evening we changed our minds, and Scott was right there the next morning with other listings for us to look at. He terminated our first offer and helped us locate the perfect home for us. This was accomplished within two days and we returned to our home in Nevada leaving all the details to be handled by Scott. With his help, we successfully closed escrow and moved into our home within thirty days. Because of Scott's integrity, knowledge, and genuine concern for his clients - we are pleased to recommend him to anyone needing the service of a Realtor.
Robert & Shirley
08/20/2013
Scott is a very patient person. He spent a lot of time showing us around St George. He is very knowledgeable about the area and its changing Real Estate climate. We are very happy with the property that we purchased. Scott is currently sending us information on other properties in the area. Thanks Scott, you were and still are a great help in our Real Estate needs.
Toby & Maryann,
08/16/2013
We would like to express our sincere appreciation for all you did on our behalf during our resent home purchase. We found you to be very professional, helpful and honest during our home locating, showing and purchase process. You were very knowledgeable and personable and we believe that we not only found the "perfect home" but also found a "friend" who truly cared about meeting our concerns and unique situation. We look forward to acquiring your representation on any future property requirements we may need. Rest assured that we would not hesitate to recommend you to our closet family and friends requiring real estate services in this area. Thank you so much for being there for us.
Ray & Janet,
08/15/2013
We could not have asked for a more caring and kind Realtor than Scott. He took time and effort to help us find our dream home. When you are lucky enough to find that in a Realtor and person you know that you are truly blessed. Thank you Scott.
Thomas,
08/13/2013
Recently I had the pleasure of dealing with Mr. Scott Hansen of Coldwell Banker Premier Realty in purchasing a condo on Diagonal Street In St George, Utah. I was pleased with the pleasant and professional manner in which Mr. Hansen conducted the sale. All aspects were clearly presented and easily understood. The sale progressed quickly and without a flaw. Without hesitation I would highly recommend Mr. Hansen as your real estate agent. He is unquestionably one of the best.
Teri,
08/12/2013
Thank you for making my first trip to St. George to buy my investment/retirement town home so enjoyable and stress free. I researched very carefully before selecting Scott to be my agent and not only did I find you to be an excellent agent, the compassion you show for your work and your clients puts you in a class of your own. The fact that you were born and raised in St George and your years of experience in real estate makes you an extremely valuable asset for anyone looking for an outstanding real estate agent. What is even more amazing to me, is that even after I closed you continue to be a great help, especially since I'm so far away from my new investment. For all of the reasons above, you have gained my trust and I consider you a friend. It would be a pleasure to give you high recommendations to anyone looking for a top-notch agent in the St George area. I am a client for life. Thanks Scott
Laurel,
08/09/2013
I really appreciate all you have done Scott. Thanks to you Scott, I learned the home buying experience could be enjoyable. I responded well to Scott's quite, efficient and laid back personality. Scott was recommended to me by a friend and I have recommended him to a dear friend. Home buying just doesn't get easier or better than with Scott.
Ralph & Janet
08/05/2013
We contacted Scott by his impressive web site one year before we were actually ready to move. He never once pressured us into signing any exclusive paperwork and spent hours driving us around several weekends throughout this one year time period. He always returned all of our phone call promptly. Each time we requested information he never let us down. He constantly stayed in touch and mailed us his newsletter and new home listings he thought we would be interested in. He even found us temporary residence at the last minute even though the town was booked up for the annual 2 week event. He worked long hours to iron out all the problems that arose and actually got us into our new home several days before it was closed and recorded. We have recommended Scott to all of our friends and family and will continue to do so.
Nancy,
07/30/2013
Thank you most, though, for your wonderful help with the whole process of finding and purchasing the home. We selected you as our realtor because of all the wonderful testimonials we read about you on your web-site-and we found them to all be absolutely true as we began working with you ourselves. Thank you for being so thorough and prepared, especially given the tight time frame of our visit in St. George. Thank you for arranging for us to see so many homes in such a short amount of time, and thank you especially for your patience and support. I imagine after a while some Realtors get anxious to hurry up the process and wish their clients would just reach a decision. We appreciated you never giving us that feeling. It was quite the opposite. Thank you for never trying to influence our decision, and for never trying to make a decision for us. Thank you for going the extra mile and tracking down information about schools and wards-all the little extras that go into the final decision making process. Thank you also for all of your help in attending to the many details of making the sale finalized. You have always been extremely responsive, and completely dependable and reliable. We had complete confidence that you would over-see every detail in a timely and concise manner. We hope to cross paths again now that we will be new St. George residents. Take care and again, thank you for everything. Gratefully,
Kirk & Shelly,
07/25/2013
We originally contacted Scott three years ago and have periodically met with him to view homes in St. George when we were passing through the area. He was always willing to meet with us on our schedule and provided insight into the local real estate market, St. George, and the surrounding communities. Scott never pressured us to buy or questioned our intentions, as we changed our criteria over the years. We recently completed our purchase and could not be happier with the outcome. Scott provided professional service before, during and after the sale was finalized. His professionalism and integrity are "Top Notch". We recently recommended Scott to some friends who are also interested in purchasing in the area. Scott, thank you again for the guidance and direction you provided while we purchased our home.
Lavinia,
07/15/2013
If you're planning to move or buy a second home in St .George, Utah, and it is a great idea because it is wonderful, the right person to help you in finding your dream home is Scott Hansen! I'm Italian and I had never been before to Southern Utah and I knew nobody in town, but Scott made everything easy, first he had a perfect understanding of the kind of home that I was looking for and later helping me very much during and after the purchase in getting insurance, a contractor, landscaping, pool maintenance and everything else I needed. Scott was always very patient, and kindly helpful even when I was very nervous because I had problems with the language, and he also drove me all around until I was able to rent a car. I felt immediately very comfortable and I'm happy to have chosen St.George for my retirement and this is also due to the kindness of Scott Hansen! Thank you very much Scott......
Pam,
07/09/2013
If it had not been for Scott I would never have found my beautiful home, because I was looking in the wrong place. After a few conversations, Scott told me based on what I've said I wanted I should consider the area of Pine Valley. He couldn't have been more "RIGHT ON". As soon as we arrived, I knew this was exactly where I wanted to be. Thank you Scott......
Karl & Helen
07/02/2013
We were very satisfied with the representation we got from Scott. He was very patient and thorough, conducted himself professionally, and we enjoyed looking at homes with him.
Larry & Kathy,
06/27/2013
Mr. Hansen is a professional that listens to his clients. He helped us find a community that we liked by introducing us to the city. A great overview and a great help. He is a execellent sounding board when it comes to pros and cons of a property. He set up viewings on houses we wanted to see quickly and knew our time line for looking. Scott is honest, friendly and reliable. We trusted his opinion. Our experience buying a house was made easy and fun with Scott. He is a great agent.
Jim & Linda,
06/24/2013
Scott was one of the best and most organized Real Estate agents we have known. We were out of town buyers and would often only have a few hours in town. He had all the appointments lined up for us when we arrived. He was always prompt, professional and careful about all our concerns and desires. He understood what we did and didn't want and tried to show us properties that met our criteria. He is very tenacious in helping you achieve your desires. You are the one in control Scott is there to make it all happen for you.
Brad & Christina,
06/19/2013
We were out of town buyers who contacted Scott to assist us in finding a home. After 18 months of meeting us on short notice, picking us up at the airport, driving us around Washington County, submitting several offers for us, we found our home. Scott was very professional, patient, supportive and informative. We were very happy with him and would recommend him without reservation. Thanks Scott!
Mike, Andrew & Steve,
06/17/2013
Scott is a very patient agent. We shopped for several months while looking for the right home. Fortunately for us, Scott never gave up on us. Even better, he wasn't pushy. Well organized, very attentive to our preferences, and a hard worker often staying late or meeting us on weekends.
Angel & Janice,
06/12/2013
It is a pleasure to recommend Scott Hansen. He is the face of what we hoped we would find in the people of St. George, Utah. He is a true professional in his field. His honesty and genuine desire to help us, was a God-sent during the stresses that came with making a major purchase while being from out-of-state. Thanks Scott. We love our new home.
Mike & Carol B.
06/10/2013
This was the 6th home we have purchased and Scott Hansen is far and away the best realtor I have ever dealt with regarding the home buying process. I would recommend him to anyone and if I ever decide on buying or selling another home in Utah, I am absolutely planning on having him as my realtor.
Merwyn & Joan,
06/06/2013
Scott, thank you for making our home buying experience so enjoyable. After working through Scott's excellent internet multiple listing site at least four times, we selected 7 homes and contacted Scott 5 days before we drove in from Colorado to spend the day looking to buy a home. Two of the homes were already under contract by the time we arrived. Scott picked us up at 9 am on Monday, showed us 9 homes in 5 hours, without being rushed or pressured in any way. We made our decision by 2 pm, went to Scott's office for the paper work which he is a master of, and closed on Thursday and headed back to Colorado. Scott was so tremendously helpful in answering all the questions we had and giving us suggestions. Scott is a real Pro! We would use him again in a instant if looking for a home - we will recommend him to our friends if any looking for a home. Thank you again, Scott. Great Experience!
Jan,
09/12/2012
I came to St George, Utah just to look at some of the top end homes for sale and check out the area. You were very kind in sending pictures prior to my arrival and planning a full day's itinerary of showing me real estate available when I arrived. It didn't take me long to fall in love with the area, and once you showed me a beautiful view lot that was available, I immediately knew I wanted to make an offer. I hadn't planned on buying anything, but with your help I am extremely happy with my purchase. Once I put the offer on the lot, I was pleasantly surprised that you continued to show us what St George and the surrounding area had to offer. Thank you for spending an entire day with us. The outstanding service that you showed me during my difficult escrow period, will keep me as a loyal client of yours, and I would recommend you to anyone! Thanks again for taking such good care of me.
Steve & Sally,
08/13/2012
Scott was very knowledgeable of the area, he gave us good suggestions and recommendations. He was very accessible and willing to take the time to show us the area. Scott showed us a very complete list of properties and lots in the area. We ended up getting exactly what we were looking for, in a beautiful area and in the price range we stipulated. In addition Scott has great connections with others in the community who can provide a range of services from property management to financing. We were very satisfied. Thanks Scott.
Robert & Susan,
06/11/2012
If you need your Real Estate salesperson to be knowledgeable, accessible and accommodating look no further than Scott. We moved to Hurricane, Utah from Wisconsin and Scott made it easy. He not only put us in touch with all the contacts we needed to get the home setup, he facilitated delivery of appliances, furniture, window treatments and anything else we needed. Scott removed most of the stress out of moving to an entirely new state and new model home. You will not be disappointed when choosing Scott as your Real Estate agent.
format_quote
Being a native of St George I know the market and can help you buy a home for the best price or help you sell your home for the most money.Visit my website for more information on properties and areas