Kelly Cummings and Ryan Cummings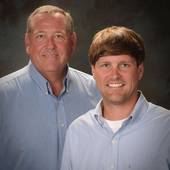 95548
Real Estate Agent
Kelly Cummings and Ryan Cummings
Your Real Estate Consultants For Life!!!
Mobile, AL

—

The Cummings Company
2316-C Knollwood Drive
Mobile , Alabama 36693
---
Contact us if you are looking to buy or sell a home in Mobile or Baldwin County. Being a Family owned Real Estate Company we treat all our clients like Family!!! Visit TheCummingsCompany.com
Get to know Kelly Cummings and Ryan Cummings
The Cummings Company is a full service real estate brokerage company with agents and systems dedicated to finding the right property at the best price. Everyone at our firm will work tirelessly to ensure that the search, negotiation, financing, inspection, appraisal and closing processes are handled in the most professional manner possible. Our belief is that we are only successful if our clients are completely satisfied. Because we also have great relationships with many local builders, we can assist you in finding the right home site, and the best builder to work for you.
Whether you are a first time homebuyer, or one who is looking to either upsize or downsize, or if you are looking for investment properties in our area, give us a call today. We are ready to help!
The Cummings Team is a Father and Son team. Kelly brings a lot of Real Estate knowledge and experience, and Ryan brings top notch internet and social media marketing making them one powerful Real Estate Team. The Cummings Teams results speak for them self, selling over 80 homes in 2014.
Kelly's real estate roots run deep. He is a second generation Realtor and Broker-Owner of The Cummings Company, located in historic Mobile Alabama. Starting with his father, the Cummings family has long been immersed in the local real estate market. Kelly's brother is an Alabama Real Estate Commissioner and his wife and son are Realtors at The Cummings Company.
Kelly currently serves the local Realtor Association as President and has been chairperson of ARPAC. He holds designations with NABPO, CRS, CDPE.
Kelly works all facets of real estate from a straight forward cash deal, Conventional, FHA, VA and USDA mortgages and the complicated short sale and foreclosure's.
Buying or selling, Kelly is able to assist you in all of your real estate needs and provide a superior level of service and satisfaction.
I am a Third Generation Realtor. I grew up watching and admiring the people I love work in the Real Estate profession. I have seen how rewarding it can be on so many different levels: financially,  intellectually, and spiritually. We do it for the people. The people we meet, help, and bond with over the life changing  decision of buying and selling their home. My family and I find it most rewarding that strangers (in the beginning) put their trust in us to do whatever it takes to get them from the beginning of the process to the end. During this process we build trust and a relationship.
The way we do this is through exceptional service and commitment to our clients. If you're willing to commit to a REALTOR®, expect the REALTOR® to treat you like a family member. We do whatever it takes to make sure you are ok at all time; and have a Human experience and Relationship with you.
This is what we do on a daily basis. We do not sell and list Real Estate. We create relationships with our clients and let the property sell itself, through  marketing. If we have a better understanding of each other we will know what you like and don't like and the process will be enjoyable from start to finish.
Visit our website and learn more about the Real Estate Market on the Beautiful Alabama Gulf Coast. 
Buyer Services:
Buying a home is an exciting time in one's life. Making the smart move of choosing a REALTOR® is your first step to ensuring that your new home and community meets your needs. Our services and experience range from financial aid to helping you find the home that best suits you and your family.  We pride ourselves on repeat business and hope you'll come to understand why.
As Your Agent, We Will:
• Determine the needs and preferences of the buyer by conversations and actual showings.
• Locate homes available in the style, price and location, for the buyers to preview, through the use of the Multiple Listing Service, my current listings and networking with agents from other companies.
• Assist the buyer in making a decision and prepare the contract offer to be presented to the seller.
• Help the buyer and the seller come to terms that satisfy both of you.
• Fairly negotiate the differences you and the seller have about your offer by presenting an objective, third party viewpoint.
• Keep up-to-date with the best financing available.
• Help you arrange financing specifically tailored to your needs.
• Handle any and all complications that occur throughout the buying process…from before the contract to after the close of escrow; thus, eliminating possible barriers for you.
• Help you and the seller arrange the closing and help synchronize buyer/seller transactions.
• Check back with you periodically to make sure you're satisfied with your new home.
• Work full-time, ALL THE TIME, to find the home of your expectations.
Before You Start Looking For Your New Home:
• Check your credit rating. Straighten out any errors before its too late.
• Determine a comfortable monthly budget for your new purchase, including down payment and monthly payment.
• Find a loan that meets your needs and get pre-qualified (preferably pre-approved).
• Choose a REALTOR® that you trust and who understands your needs.
• Determine what neighborhood best matches your needs.
• Identify important features you need your new home to have.
Closing Costs to Expect:
• Lender fees include charges for loan processing, underwriting, preparation and establishing an escrow account.
• Third-party fees include charges for insurance, title search, and other inspections such as termites.
• Government fees include deed recording and state & local mortgage taxes.
• Escrow and interest fees include homeowner's insurance, loan interest, real estate taxes, and occasionally private mortgage insurance.
Seller Services:
Selling your home shouldn't be a stressful ordeal. Making the smart move of choosing a REALTOR® is your first step to ensuring that your investment in your home pays off.  My services and experience allow you to focus on your move while we manage your home sale from the initial consultation to the closing deal, and beyond. I pride myself on repeat business and hope you'll come to understand why.
As Your Agent, I Will:
• Assist in determining Fair Market Value by reviewing market demand, seasonality of sales, location and many other variables, which often alter your home's value.
• Suggest ways to improve salability based on Fair Market Value.
• Locate qualified Buyers who want homes like yours, through the local and national multiple listing services, internet marketing, direct mail and phone contacts.
• Keep you, the Seller, informed.
• Highlight showings by illustrating the best features.
• Present an objective, third party viewpoint.
• Qualify and counsel serious buyers toward a decision. Buyers need answers to countless questions, not only on your property, but also on other technical matters such as financing, payments, insurance and title clearance. As your Realtor, I will have the answers, make detailed arrangements for financing and serve the buyer in dozens of ways to make it easy for him/her to complete the purchase of your home.
• Keep up-to-date with the best financing available.
• Synchronize buyer/seller transactions.
• Assist with all the steps involved with the closing.
• Handle any and all complications that occur throughout this process…from before the contract to after the closing.
Recent Home Sales:
What are homes selling for on your street? Contact us to find out what neighborhood homes are selling for, free of charge, or choose a more detailed analysis of the value of your home.
Getting the Highest Price for Your Home:
Curb appeal is key and could make a difference whether people stop and take a flyer, or drive right by. Staging your home is important and many buyers will stay in your home longer if it's staged appropriately.  We have experience, fresh ideas and many local resources to present your home in the most effective manner.
Closing Costs to Expect:
• Title insurance fees depend on the sales price of the home.
• Broker's commission is a full-service fee and will cost a certain percentage of the Sales Price.
• Local property transfer tax, county transfer tax, state transfer tax, and state capital gains tax are the charges that you'll pay for the privilege of selling your home. Credit to the buyer of unpaid real estate taxes for the prior or current year are variable and depend on when you close and when your taxes are due.
• FHA fees and costs are all fees are now negotiable between an FHA buyer and seller.
• Home inspections fees are in some circumstances paid for by the seller and include pest, radon and other inspections.
• Miscellaneous fees can accrue from correcting problems noticed during the home inspection.
Kelly Cummings and Ryan Cummings's Blog Posts
Home Buying
–

almost 6 years ago
Home Improvement
–

almost 6 years ago
Home Buying
–

almost 6 years ago
Home Selling
–

almost 6 years ago
Certifications
Sellers Representative Specialist (SRS)
Certified Residential Specialist (CRS)
Certified Distrested Properties Expert (CDPE)
Reverse Mortgage Expert (RME)
Awards
David Roberts Scholarship Award 2013
2013 AAR Leadership Class
ARPAC Chair 2013
Testimonials for Kelly Cummings and Ryan Cummings
Cheryl Lawerence

02/18/2016

Professional, Efficient, Proficient & Friendly - "The Cummings Company is far superior to other realtors. I have had many years of experience with others, but cannot begin to tell you that the team at The Cummings Company is "the best". Father, Son team are very personable and work endless for their clients. I had given them a listing and on Christmas Day there was an issue with the home and they took time away from their families to go to the house to check on the problem. Now you just don't find this type of loyalty!!! They have sold several listings I gave them when no one else could. I met the Cummings when I made a purchase of my home in Fairhope. Ryan had sent out postcards in my old neighborhood & I decided to call him to list my home in Brookwood. I relocated to Fairhope & he worked many hours finding me the "right place". Communication was excellent. If you need a "worker bee" to sell your home, or find your new home this is the Agency to call."

Once again The Cummings Team came through for my wife and I. We have been looking for a house for a couple of years when this deal was presented to us by Ryan. His knowledge of the neighborhood, the original builder and history of the house made this an easier than usual decision. Ryan's awareness of the market backed by Kelly's experience makes one a very effective team.

Kathleen Spitzfaden

09/27/2014

Ryan is a true professional who impressed me with his knowledge, sincerity and genuine concern for providing the best service possible to his client.

Ryan Cummings and the Cummings Company could not have pleased us more! They were excellent in all ways and they helped us locate workmen we needed. Since we are from Georgia, The Cummings Company located in Mobile, Alabama made our transition so easy.

We just love Ryan Cummings!

Kelly and Ryan were great to work with. They met with me and showed me many, many houses...rain or shine. Kelly was a tremendous help to me on the whole process since I was not knowledgeable on how to buy a house. He made sure everything agreed upon was taken care of as well.

While working in another state I was interested in buying some investment property. I called Kelly and instantly knew I had a "one of a kind" agent. Kelly went to property, took photos, put a package together and email all of the information for me to make an informed decision on the purchase. I have purchased a few investments properties from Kelly. I am now in the process of selling my personal residence and Kelly will represent me in this transaction as well.

Kim Littlefield

11/01/2013

Kelly went above and beyond on our sale. He was very knowledgeable and professional. He knew the area and the process of getting our home sale finalized on schedule. I would highly recommend him!
Introducing a fresh new look for your Profile.
Click the 'Edit Profile' button below to enter 'Edit Mode' and continue the tour.