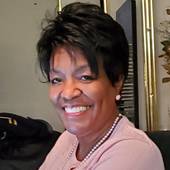 481.010183
Real Estate Broker/Owner
Diane Rice
SFR, SRES, CNC
Lansing, IL

—

Rice Prprty Mgmnt & Rlty, LLC, South Holland, IL
Commercial & Residential Property Management & Real Estate servicing Suburban Illinois & Northwest Indiana locations. Our clientele includes investors, owners, renters, buyers, and sellers.
Get to know Diane Rice
We began our business after we received divine instructions: "start the business, and whatever you touch will turn to gold"!  At the time, we were living in a basement apartment surviving mainly on potatoes for a whole year.  With no money saved, and not knowing where to start, "it came to me" that what i can do is what i have already been doing all my life, "naturally"   Well, i knew how to clean, so i made calls offering to clean homes.  Our first customer was a relative.  I grabbed a can of Comet Cleanser, a few rags, and mounted the $5.00 bike my husband purchased me from a resale store.  
It took a whole day cleaning her 3 level home.  When my husband saw my efforts, he then picked up a paint brush and announced, "well, i can paint"!
We called the landlord and informed him that he needed his building painted and cleaned, then offered our services.  The next week he called and took us up on it.  Unknown to us, he had 38 units, which we began to clean and paint.  Later, when we were "divinely instructed" to move to a different location, we continued our business with him. 
It was after we moved that our former landlord asked us to manage his properties.  We became his part-time employees, seeing to the needs of tenants.... cleaning, painting, and most of all listening, hearing, observing.  Later on, we were divinely instructed to get licensed, and we did.  We believe one of the reasons we have been called into this business is to service a sector of people who may have resigned to become life-time renters due to low credit scores, hindering past histories, and lack of knowledge needed to assist in advancement.  There is an immense degree of joy witnessing the gratitude shown on faces of clients who did not believe they could become homeowners!  As we continue to be directed by "divine instructions"  we anticipate greater contributions to service lives of many.
Rice Property Management & Realty, LLC. - "Big on "U".... all the way to the letter"i"
Diane Rice's Blog Posts
Real Estate General Information
–

over 6 years ago
ActiveRain Community
–

about 9 years ago
ActiveRain Community
–

almost 10 years ago
Certifications
Owners:  The favor awarded to us gives us a resource advantage of being able to offer pre-qualified tenants to property owners seeking management in the States of Illinois and Indiana.  Our large tenant-base can be utilized to accomodate your units needing occupants.  We walk the owner-to-be through every step, encouraging them along the way.  Our convenient South Suburban Rental Office located in South Holland, IL, is being equipped with state of the art property management support systems designed to give you quality professional monthly reports.  Rice Property Management resolves to become your Full-Service Property Management Company.  We encourage all interested owners to contact us for appointments. Investors:  Rice Property Management seeks partnerships with investors desiring to contribute back to the community while  enjoying profits made from wise business choices.  Our endeavor is to expose others to investment visions that will impact lives for the betterment creating an acceleration in business as a result of liasons with us.  New and seasoned investors are encourged to ask Rice Property Management regarding these programs. Renters:  This is one of the main areas of focus for us. Our experience as Property Managers has given us the understanding, patience, and sensitivity needed to assist our clients into becoming homeowners.   We appeal to tenants and those with challenged credit primarily concentrating where the needs are.  We "use rent-to-own" strategies and have credit counseling plans.  We have chosen communities that have high concentrations of renters in the South Suburban Illinois & Indiana vicinities to target. We have an "Urban Mission" message to prove..... "welcome to your OWN home!" We endeavor to:  Convert renters into homeowners, homeowners unto investors, and investors into neighborhood developers.  We will accomplish this through using on-going training through our memberships with Local Chambers, Neighborhood Coalitions, In-house training, and other sources. We are dedicated to getting results for anyone desiring a home regardless to past credit problems or low incomes.  We are eagerly waiting to serve you!  We belong to the following: Multiple Listing Service of Northern Illinois UnderCover Agents of God  Mainstreet Organization of REALTORS® Illinois Association of  REALTORS® Indiana Association of  REALTORS® National Association of REALTORS® Chicago Association of REALTORS® Notary Public - State of Illinois Certification - IAR Home Power Mortgage Calumet City Chamber of Commerce Greater Northwest Indiana Association of REALTORS® Christian Real Estate Network - Director Certification - Multi-Family Property Management CIC Riverdale IL Landlord Association - Vice President Riverdale Chamber of Commerce - Director Crime-Free Multi-Family Certifications: RIverdale, Dolton, Glenwood & Chicago Heights Founder:  Property Management - Active Rain  Community Involvement: Director - Calumet City Chamber of Commerce Director - Riverdale Chamber of Commerce Member - South Holland Business Association Design Team Member - LIFE Academy Charter School Teacher - "POSSIBILITIES Seminars" Member, COPS - "Coalition Of Praying Sisters"
Testimonials for Diane Rice
Suburban IL Property Owners

01/01/2013


"We would like to thank Diane and Rice Property Management Company for the great work they do! We were worried about what to do with our property, as we were moving overseas and knew that selling was not an option. We talked to different property management companies, but Rice Property Management "felt right"...especially after meeting with Diane. She has been gracious, understanding and patient with us, as we were "newbies" and had tons of questions and issues that she helped resolve. We have put our faith and trust into Rice Management, knowing they add a personal touch to the professionalism they display."

~Beth & Marilee in Germany

Suburban IL Multi-Unit Investor

01/01/2012

Rice Property Management provides thorough and efficient property management and tenant placement services. Diane and her experienced agents are professional, hard working and on top of the latest technological advances in communications and advertising. Her website provides prospective tenants with a virtual tour of my apartments and an online application which after her excellent credit checking and screening process results in the amazingly fast placement of very well qualified tenants. Tenant payments are sent directly to my bank account and all other documents are sent to my email so no need to hassle with tons of paper. I would definitely recommend Rice Property Management to others!

Sincerely

TABS Investments, LLC
Business Relations Team
Tracy D. Baker

Blue Island IL Investor

11/01/2011

"The first best decision that I made this year was to fire my real estate agent. The second best decision that I made this year is to have Diane Rice handle my rental property! I can't express how impressed I am with Diane and her agency, and I am looking forward to a long and profitable relationship."

Many thanks Diane, Pat McAllister - Illinois

South Holland Property Owners

10/01/2010

"Roger and I can't thank you enough for taking this burden from our shoulders. You've delivered everything you told us - which is rare in this day and age. It was a true blessing to meet you and your team!"

Warmest regards. Roger & Patricia - Euless, TX



Dolton IL Property Owner

09/01/2009

"I have been working with Diane at Rice Property Management for 7 years and it has been by pleasure. They were not the first management company I hired to manage my property, but they are the best! They have systematically handled my problems that arose with professionalism and with a "personal touch". They are ethical, accountable, and highly efficient. Diane treats my property issues as if they were hers. I would definitely recommend Rice Property Management to handle anyone's property needs."

Thank you, Aaron - Las Vegas, NV

Suburban IL Multi-Unit Investor

03/01/2009

"Thank goodness for Diane and the Rice Property Management team! After trying the rest, I'm now with the best! Thank you for consistently responding with prompt communication and delivering on your promises to look after our properties. Although we are located on the other side of the world, it gives us great confidence to know that you are always at work behind the scenes ensuring the very best on our behalf. It so nice to have a relationship with someone in this field that you can truly trust!"

Kallan Bullivant, Australia.
Introducing a fresh new look for your Profile.
Click the 'Edit Profile' button below to enter 'Edit Mode' and continue the tour.