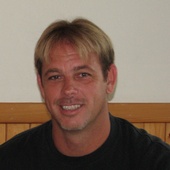 License#PT393- RX11066969
Home Builder
Paul Peck
Licensed Drywall and Painting Contractor
Melbourne, FL

—

Peck Drywall and Painting serving Brevard County, Florida
140 Tomahawk Dr.
Indian Harbour Beach , Fl 32937
---
Peck Drywall and Painting - serving Brevard County, Florida with interior/exterior painting, complete drywall services, popcorn removal, wallpaper removal, texturing, knockdown, skip trowel and more.
Get to know Paul Peck
Greetings! I'm Paul Peck, owner of Peck Painting and Drywall.
Thank you for visiting my Blog! Fortunately, I was lucky enough to be born and raised here in beautiful Brevard County, FL and am now raising my family here in South Brevard as well. As a lifetime local, I have knowledge of, and the appreciation for Florida climate, historical sites, wildlife, local building techniques as well as County and State building regulations.
My company, which was established in 1995, I am a fully licensed drywall contractor and painting contractor,  Wood and metal framing, drywall installation, drywall finishing, texturing, interior painting, stucco repair, stucco cracks, exterior wood rot repair, exterior house painting.
We are dedicated to providing quality work and rely on customer testimonials and references to ensure the recruitment of new and satisfied customers. If you are in need of a licensed, fully insured and professional contractor for your next home or business renovation project. Please contact me for a consultation.
Best regards, Paul Peck
Florida State License #RX11066969  
Paint certifacation #PT393
Paul Peck's Blog Posts
Home Improvement
–

over 2 years ago
Home Improvement
–

over 2 years ago
Home Improvement
–

about 3 years ago
Home Improvement
–

over 2 years ago
Licensed Drywall Contractor and Painting Contractor - Movie Trailer
Beautifying Brevard County, Florida one house at a time! I have been repairing and painting homes here in Brevard County for almost 30 years. What that means to you is, all the proper procedures will be followed from the prep work, to the exact sealers, primers and paints that are best suited for our Central Florida climate. I'm an owner operator. Which means I'm on every job making sure that each step is completed properly throughout the entire painting process, ensuring you a professional paint job that will not only look good but will last for years to come. Thus, protecting your biggest investment. Your Home! For more information Visit us online @ http://peckdrywallandpainting.com/ or call ☆Melbourne/Beachside 321-777-9337☆ ☆Merritt Island/Cocoa Beach 453-6233☆
Certifications
We are a family owned and operated business, offering quality painting and drywall services since 1995 and remain committed to providing the highest quality services to our clients. We will always listen carefully to our customers concerns and provide honest and fair  responses. Having worked extensively with leading architects, designers, realtors, general contractors and homeowners, our blend of "old school" craftsmanship and the latest technology has earned us high acclaim within the industry. In addition, we maintain current county and state licenses, Workers Compensation and General Liability insurance policies as required by law.
Continued Education: Peck Drywall and Painting continues to acquire and maintain Continuing Education Requirements as required by the State of Florida. This allows the homeowner Realtors and business-owner additional confidence in our knowledge and skills.

1) Business laws and Rules:a. Construction Industry Licensing Laws.
b. Application of the laws. 2) Wind Mitigation Methodologies:a. Florida Building Code requirements.
b. Techniques for gable-end bracing.
c. Strengthening roof-decking attachments and fasteners during re-roofing.
d. Application of improved roof-to-wall connections.
3) Green Design and Construction: a. Definition and purpose of green design and construction.
b. Green building standards and certifications. c. Applications of green design.
d. Green construction practices.
e. Advantages of green design and construction.
4) Disaster Recovery and Design:a. Definition of modern day disasters that impact construction.
b. Recovery procedures for various types of disasters.
c. Application of inspection techniques for disasters.
d. Prevention and mitigation of damages caused by various types of disasters.
"We are a One Stop Shop for all of your Drywall and Painting projects"
Peck Drywall and Painting

Become a FAN on Facebook
 Click here to check out our videos on YouTube!
If you looking for a specialist's with Interior and exterior painting, Wind driven rain protective coatings, drywall installation, drywall finishing, bathroom remodeling, kitchen remodeling, pressure washing, drywall texturing
Skip trowel, knockdown, orange peel, popcorn, smooth finish, popcorn removal, wallpaper removal, ceiling repairs and texture matching in Brevard County-Melbourne-Melbourne Beach-Indialantic-Indian Harbour Beach-Cocoa Beach-Satellite Beach-Viera-Rockledge-Merrit Island-Cape Canaveral-Port St. John-Cocoa-Titusville-Palm Bay. 
Please give us a call for a Prompt and accurate quote.
Melbourne/Satellite Beach -777-9337  
Merritt Island/Cocoa Beach -453-6233    
Titusville/Port Saint John -383-3574
Skills
Ceilings and Walls
Crown Molding
Doors and Baseboards
Faux Painting
High Ceilings
Texturing
Texture matching
Paint Popcorn Ceilings
Cracks repaired
Plaster repair
Acrylic Coatings
Wallpaper removal
Water Stains

 
Stucco Cracks
Stucco Sealing
Wood Siding Painting
Pool Deck Painting
Pool Deck Texturing
Testimonials for Paul Peck
Teresa Watts - Rockledge, FL

07/30/2014

Amazing! Paul with Peck Drywall and Painting is truly amazing. He came to my rescue after a botched popcorn ceiling removal and retexturing attempt. When I called him it was so welcoming and calming to hear his very professional reply of, I can stop by your home today; which he did. My only regret is not going with Paul from the beginning. He was courteous, professional, caring and understanding, and above all else competent and skilled...skilled like an artist. My home not only turned out beautiful, but it was cleaner than when the job began! We love our newly textured ceilings and would HIGHLY recommend Paul to our family and friends. Do not make the same mistake I did and try to hire someone without recommendations. Paul knows what he is doing and delivers a professional product that you will love for a lifetime! He was a joy to have in my home and I just can't recommend him enough!

Anna Bell - Rockledge, FL

04/02/2014

My 16 year old home was in need of painting. I got 3 estimates, Paul being one of them. Not only did his price meet my budget but he was professional and knowledgable and that is why I chose him for my repaint job. He took time to prepare the surface and fill cracks. Once he started the job, he stayed with it to completion. During the repainting there were problems with the porch ceiling coating falling off, possibly due to moisture over the years. He resurfaced it and repainted and you cannot tell there was ever a problem. He took time to cover all areas around the painting area to prevent splatter and drips. I would definitely recommend Paul for your next paint project!

Walt Ivey - Melbourne, FL

02/12/2014

With all of the painting contractors in Brevard County, only Peck Drywall and Painting can accomplish everything associated with restoring the outside of a home and make it look new. I needed stucco repair, framing, and painting done on a 19 year old house. Paul Peck said he could do the job and he did it with exceptional professionalism and made the house look new. Quite a number of residents in my subdivision have commented on how beautiful it turned out. Some asked who performed the work because they want Paul to paint their homes. Paul and his people are extremely courteous, clean up their work each day, and are dedicated to the job they are currently doing. I will have Paul do all of my future projects.

Caryn L. - Viera, FL

08/28/2013

Meticulous and dependable work. Being gone all day for business and away from the ongoing work at my home could have been stressful, but I just didn't worry because it was all in good hands. I was always pleasantly surprised to come home to quality work. Paul and his team did an amazing job of painting and drywall work at my property. No drama, just nice people to deal with. Highly recommend to anybody needing to get started and not knowing who to choose. There are many choices out there. Don't hesitate to pick Peck Drywall and Painting.

Mel B. - Merritt Island, FL

05/12/2013

They repaired several drywall cracks and were able to match our drywall texture. They arrived promptly, worked steadily and with very little disturbance to the surrounding areas. I would recommend them and would hire them again in the future.

Mandy Rogers - Melbourne, FL

05/03/2013

I highly recommend Peck Drywall and Painting. Paul was flexible in his scheduling and did a fantastic job with my dry wall and popcorn ceiling removal. He was professional and trustworthy and did an outstanding job. I'm very pleased.

Elizabeth B. – Melbourne, Fl

04/13/2013

Peck Drywall and Painting painted the exterior of my home after performing some minor stucco repairs.
I have a stucco home that needed painting and some minor stucco repair. Paul Peck came out to give an estimate in person at my earliest convenience and was very knowledgable and professional. His estimate was competitive with the four other estimates I received and he was able to start the job within a short period of time. He was present each day and his crew is very skilled and courteous. They worked around inclement weather and kept me informed of any issues or schedule adjustments. I am absolutely delighted with the finished result and would not hesitate to recommend this company to other Angie's List members.

Rob B. - Melbourne, FL

04/11/2013

Reliable, affordable and excellent work. Called Peck s before selling my home to fix some stucco cracks, do some in and outside painting. Was called back in a timely manner for an estimate, was given an affordable price to complete the entire job and after completed it looks better than it ever has--and this house was brand new! I cant say enough, if you need drywall, painting or any kind of repairs this is the company to turn to.

Randy Becker - Melbourne, FL

01/07/2013

Paul Peck provided an accurate labor estimate then completed a beautiful and professional 100% interior paint job to my recently purchased home. The job required several sheet rock repairs that are now invisible. His attention to detail is obvious. My home has ceilings up to 30' with nooks and crannies that look just as good as the easily reachable areas. I absolutely recommend Peck Painting.

Millicent Marsh in Melbourne Beach, FL

06/11/2012

A magnificent transformation to my beach house!
I hired Paul to paint the entire inside and outside of a bankrupt shortsale been empty 3 years and abused by vandals- the house was a pitiful site , but with much , much potential- Paul and company came in and worked from the start with me and for me- the color expertise and the knockdown and skip trowel texture throughout, with the flawless paint job transformed this tired lonesome home into my castle- I am so grateful the job was smooth and flawless because the other work was enough. pool, air conditioning duct work, total removal and redone landscape, all was worked around by paul, no problem.
Thanks so much- my motto- PICK PECK HIS WORK IS IMPECCABLE!
Introducing a fresh new look for your Profile.
Click the 'Edit Profile' button below to enter 'Edit Mode' and continue the tour.