Pacific One Lending And Pacific One Real Estate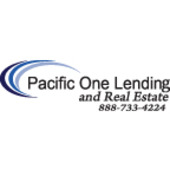 Mortgage and Lending
Pacific One Lending And Pacific One Real Estate
Huntington Beach, CA

—

Pacific One lending and Real Estate
Full Service Lending and Real Estate Institution
Get to know Pacific One Lending And Pacific One Real Estate
About Pacific One Lending
Personal finance is an issue that affects everyone. Once you purchase or own a home, finding a company to trust with such important financial matters is a high priority. When thinking of a mortgage company one looks for a company that encompasses qualified capable employees who will help guide each client through one of the most important decisions they make in their lives. Pacific One Lending is a company that begins unlike most small personable brokerage shops. It was founded by two men who were driven to create a beneficial change in the industry. After much thought and consideration they invested all their savings and opened up shop for business in the garage of their homes. Slowly they hired trustworthy employees who would be just as motivated as they were to help the company grow and thrive. Through diligence, perseverance, and motivation they were able to garner enough funds to open up a legitimate brokerage and California Financial Lending office in the heart of Huntington Beach, CA. Currently Pacific One Lending has expanded to include a spacious office space with many qualified and personable employees. The company caters to many clients with various financial backgrounds and always ensures that the borrowers needs come first. Each customer is treated with the same care and respect that has earned the company the reputation of conducting good and honest business.
Pacific One Lending And Pacific One Real Estate's Blog Posts
Certifications
Who is Pacific One Lending?
Our team is committed to providing our clients with the highest quality financial services, combined with low interest rates which are currently available in your area. Our outstanding Mortgage/Lending division, Loan Modification and Debt Settlement professionals will work diligently with you and your family members on a personal, yet professional level to ensure you get the best financial solution tailored specifically to meet your financing needs and future goals. Whether you are modifying your existing loan, purchasing your dream home, refinancing an existing loan, or consolidating debts with high interest rates, our highly experienced team of Professionals can help you find the perfect financial solution. Our customer service is second to none no matter what your needs or goals are. Ultimately the main goal is to create lasting relationships with every one of our clients so that you feel comfortable and we can continue providing excellent service for many years to come to your friends and family. Unlike many of the larger national financial service companies out there, all your information will be kept on a secure and private network with many firewalls updated weekly. Our name is trusted throughout the community as you can see we are one of the leading companies in this industry with an A+ rating on the Better Business Bureau. You can look this up at www.la.bbb.org and search our company name Pacific One Lending.
A little Education about Loan Modifications
Almost everyone with a loan is eligible for a loan modification or one of our other personalized services we offer. We will refer you to 4 different Law Firm with Real Estate Attorneys, Estate Attorneys, Mitigation specialists, and paralegals that specialize in Loan Modifications and Real Estate contracts. What this means to you and your family: once you retain one of the firms to represent and negotiate on your behalf they can amend your loan with your current lender's approval to alleviate your financial hardship. The terms of your loan would then be changed creating a new note without having to refinance and incur closing costs which are typically higher then the retainer fee applicable to your negotiation.
What exactly is a loan modification?A loan modification is done through a Real Estate Law Firm which negotiates a new term and note approved by your current lender. They can modify the term, monthly payment, principal balance reduction, interest rate, or change any part of an existing loan. This is a legal negotiation to ease a borrower's financial hardship.
Can a loan modification help me through any present unforeseen financial difficulties?You should definitely consider a loan modification if you have fallen behind in your mortgage payments, or expect to fall behind, due to a present or future financial hardship. Another benefit is if the balance of the loan is greater than the market value of your home ("upside-down"), or if your adjustable interest rate loan is about to increase, or if your in a loan that you are going backwards on (a Negative Amortization Loan) 95% of the law firms will get your loan modified .
How does the loan modification process work?If you know that your loan payment is about to increase or you are having any financial difficulties and you will not be able to afford the larger payment, our team can work with your lender to adjust the terms of your loan. Once your lender agrees to a loan modification (about 45-60 days), the terms of your loan will be negotiated for your approval and you can choose to do it or not. The duration of the loan, monthly payments, principle balance, and the interest rate can be adjusted to conform to your current financial situation. Some people choose to do a modification to simply get rid of their escrow account as well so you can pay your taxes on your own and gain the interest on your money instead of the bank.
Can I renegotiate the terms of the loan myself?Absolutely, however it is a long and annoying process and you would be on hold for hours on end daily, not to mention you would receive a higher rate over what a real estate attorney could accomplish. As you may have discovered, most lenders are not receptive to requests from borrowers (loose the paperwork or have you transferred to 5 or more people and then end up with the same person you spoke to in the beginning). Lenders are very likely to listen to and negotiate with attorneys because of the fear of a law suit from an attorney than that of a borrower. The primary goal of the real estate firm is to work with and protect you, your home and any legal actions the lenders can go through with.
Is a loan modification the same as refinancing or debt consolidation?A loan modification is NOT the same as a debt consolidation program or refinancing a home. A loan modification, the Law Firms renegotiate the terms of your note, the duration of the loan, monthly payments, principle balance, and interest rates directly with your lender. If you have been turned down for a refinance, or if your balance on your loan is greater than your home's current value, you should consider a loan modification to reduce principle balance and monthly payments. They can possibly increase the length of the loan and decrease your interest rate.
What information will I need to provide to begin the loan modification process?Beginning the process is quick and easy. The following information is absolutely necessary to start a loan modification but not limited to:
3 months bank statements Mortgage Statements (Mortgage Coupon). If you have 2 mortgages then both statements. Tax return 2008 and 2007 (or an extension for 2008 up until October 2009) Homeowner's Insurance statement / Declaration page Current retirement coupon/letter or statement. Social Security Letter (if you are receiving Social Security) 2008 and 2007 W2's or 1099 showing amount of income earned. A Letter of Explanation for your current financial hardship. Pay check stubs for the last full month (and during the process everyone that you receive needs to be sent in showing your currently employed)
After we have gathered the preliminary personal information, we will request the items listed above to document your income, expenses, and debts for a detailed underwriting of your current financial situation. In cases where a financial hardship is a factor, we may need letters of explanation to clarify the current hardship and a future outlook. We will use the information to determine how to structure your scenario.
What is the usual amount of time required to complete a loan modification?The time required varies case by case, because each borrower's circumstances are different, the needs for the modification and each person's financials are different. The process may take only a few weeks from start to finish, or could take several months. Current turn times are 30-45 day to get to a negotiator and then an additional 45-60 days for a meeting of the minds.
Am I required to make all my monthly payments during the modification process?I always state YES, however your attorney that is assigned to handle your loan modification will advise you. Legally I can not tell you to miss any mortgage payments as we are mortgage professionals.
How willing are lenders and banks to go through this process?Lenders are usually as anxious to avoid foreclosure as are the borrowers because to foreclose it costs a lot of money and time. In California there is a 90 day moratorium where the lender can not foreclose on any one that took out a loan between 2001 and 2008. When the lenders have to foreclose, list the home and then sell a home at a discount, they lose more money then if they were to keep the borrower in property. Since lenders do not like losing money any more than the rest of us, they are much more willing to modify your loan vs. foreclosing on your property.
Do I need to meet with my bank or lender to deal with the paperwork myself?Absolutely not! Our Loan Modification Professionals and the Law Firm will manage your paperwork for you, and save you from having to deal with the negotiations and the "legalese" they are filled with. Since you are hiring a Law Firm to represent you in the negotiations, you will not have to meet with your mortgage lender at all.
Do lenders approve everyone who applies for a loan modification?Not necessarily. They may turn you down if you make too much money vs. debts and do not have a financial hardship or just simply wait too long to begin the modification process. If your loan modification request is turned down, there are several other options we can consider. Our team of experts will discuss your options with you and which one is the best for your individual needs.
I'd like to adjust my Option ARM or Standard ARM. When is the best time to do it?IMMEDIATELY! If you put it off, you will find that there are fewer options available to you and a higher risk of loosing your home. The quicker you take control of the situation, the faster you can begin your financial freedom
How much time is required to stop a foreclosure?You must take charge of the situation and act now to stop a foreclosure. Your most formidable enemy is time! Contact us immediately if you are threatened with foreclosure, Notice of Sale or Notice of Default.
How often does your loan modification negotiation lead to a successful resolution?Because of legal qualifications and our understanding of current modification trends, we are very successful in helping to save many clients' homes and/or reducing the principal balance of their current loan. The average success rate is over 95% with a Law Firm if retained to work on your behalf. As specialists in negotiating with lenders, we have both the training and expertise to maintain a high success rate.
Are you going to offer to buy my home?We have no interest what-so-ever in buying your home! This is your home not ours. Our focus is entirely on negotiating with your lender to ensure that you can remain in your home as the owner and holder of both the title and the note. We want to help not hurt.
Introducing a fresh new look for your Profile.
Click the 'Edit Profile' button below to enter 'Edit Mode' and continue the tour.