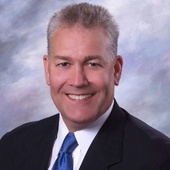 Real Estate Broker/Owner
Mike Riedmann
Residential Broker Manager NP Dodge Company Omaha
Omaha, NE

—

NP Dodge Company
Licensed since 1976 currently President of the Residential sales division. Active in land development, relocation and brokerage sales in Eastern Nebraska and Western Iowa with 550 sales associates.
Get to know Mike Riedmann
Mike Riedmann graduated from Wayne State College in 1976 with a bachelor of science in Business Administration. Following graduation Riedmann joined the NP Dodge Company where he excelled in new homes sales. In 1983 Riedmann and partners started their own real estate brokerage company The Real Estate Professional Group serving as vice-president and managing broker. After closing their company in 1987 and going back into brokerage sales Riedmann rejoined the NP Dodge Company in 1990 managing a sales office. In 1993 Riedmann was promoted to vice-President and General Manager of the residential sales division. Riedmann was named President in 1994.
The NP Dodge Real Estate Company is a full service real estate company founded in 1855. NP Dodge offers residential and commercial brokerage services, land development, property management, casualty insurance, title insurance, mortgages brokerage and relocation services.
.
Serving the Realtors® organization in many capacities Mike Riedmann was elected President of the Omaha Board of Realtors® in 1995 and President of the Nebraska Board of Realtors® in 2002. Riedmann serves on the Governmental Affairs Committee, the Nominating Committee and is Chairman of the Board of Trusties for the Political Action committee for the Nebraska Realtors® association. Mike Riedmann currently is serving on the Federal Housing Policy committee and the Board of Directors for the National Association of Realtors. In 2006 Riedmann received the Realtor of the year Award from the Omaha Board of Realtors and in 2007 was named the Nebraska Realtor of the year.
Mike Riedmann was the 2005 President of the Metropolitan Omaha Builders Association; He currently is a State Director for the Home Builders and serves on the Governmental Affairs and Build-Pac committees. Riedmann is an active residential developer and named the Outstanding Sales and Marketing Person by the Nebraska Home Builders Association in 2002.
Serving the community has been an important part of Mike Riemann's career. A member of the Omaha Chamber of Commerce, the Bridge Builders Society of the United Way of the Midlands and a leadership contributor to the Boy Scouts of America. Riedmann is a member of the Corporate Achievers for the National Multiple Sclerosis Society and Team captain for the American Heart Association. Riedmann currently is serving on the Board of Directors for Easter Seals of Nebraska.
Mike Riedmann received the Wayne State College Alumni achievement award in 2004 and is a trustee for the Wayne State Foundation. Mike Riedmann and his wife Coleen have four children.
Mike Riedmann's Blog Posts
ActiveRain Community
–

over 11 years ago
ActiveRain Community
–

almost 12 years ago
Certifications
With a history beginning in 1855 and spanning five generations, NP Dodge Company has not only deep roots and a strong heritage, but also an ability to expand and diversify that has produced many sturdy branches. From its modest beginning as a small family business, NP Dodge Company has grown into a full service real estate firm with nearly 550 sales associates, 11 business divisions, and several hundred employees.
NP Dodge Company is now Omaha's largest, full-service real estate business, as well as being the oldest real estate firm in the United States. Five consecutive generations have participated in both ownership and management. The business of real estate has changed over time and each generation has brought a fresh perspective and helped expand business, as well as helping to share in the development of Omaha's history.
NP Dodge Company opened its doors as a tiny land office in Council Bluffs. In the mid nineteenth century, the first N.P. Dodge and his older brother surveyed land in Nebraska and Iowa. They soon homesteaded land in Nebraska, in the area now known as Elkhorn. The land office was opened in 1855 in Council Bluffs, and they also founded the Council Bluffs Savings Bank.
After graduating from Harvard College and Law School in 1897, N.P. Dodge II began work in the real estate field managing several buildings and doing legal work. Returning to Omaha in 1900, he opened his own real estate office in 1905. His passion soon 1ed to land development, which took him to other areas of the country. By the time the company's main office was moved to Omaha in 1910, NP Dodge and Company had completed more than 150 subdivisions in 103 cities throughout the United States.
In 1933, N.P. (Phil) Dodge III graduated from Harvard, and returned to Omaha to join the company. He focused his real estate work in residential construction, insurance, mortgage lending and residential sales. World War II interrupted his career, but he was soon back in business and continues today as Chairman Emeritus of the board.
N.P. Dodge IV, Sandy Dodge, brought additional growth and expansion to the company. He graduated from Harvard in 1959 and is currently President and CEO. After three years in the Air Force, he came back to Omaha to begin his work. He founded NP Dodge's property management division, which currently manages 9,000 residential units in Nebraska, Iowa and Minnesota.
Nate Dodge, the fifth generation of the family, has been with the company since 1994. He graduated from Tufts University in 1986, and worked with Fannie Mae for seven years. Nate is currently President of NP Dodge Property Management Company and President of Omaha Title and Escrow.
Despite their reach into other geographic regions, the Dodge family remained focused on Omaha. Part of the NP Dodge tradition has been to give back to the community which has been their home and the source of their livelihood for nearly 150 years. Work with local civic and charitable organizations tied naturally to their role in land and community development. Each family member has been actively involved in a supporting multitude of local civic, charitable and professional organizations. Each generation of the family has been well respected in the real estate profession, contributing to the advancement of the field on the local, state, regional and even national levels.
NP Dodge Company has several successful wholly owned subsidiaries. In addition to a residential sales area, the companies include NP Dodge Land Development builder services group, NP Dodge Management Company, NP Dodge Insurance, Omaha Title and Escrow, a land development area, a commercial and development business, a full-service relocation management firm, a full service business brokerage, an auction service and a real estate school. NP Dodge Company is also associated with The First National Bank of Omaha, offering residential sales financing, through representatives located in each NP Dodge Residential Sales office.
All areas of the NP Dodge Company have seen substantial growth and expansion over the past decade, despite ups and downs in the real estate market. The residential sales area alone has grown regionally and now has 14 offices in and around the metropolitan Omaha area. Sales associate numbers have grown annually, reaching a high in 2007 of 550. The Land Development area has developed over 3,000 residential lots in past few years. NP Dodge Insurance has over 2,100 accounts and over 4,500 personal lines. Omaha Title & Escrow has doubled its number of average transactions per month in the past two years alone.
All divisions under the NP Dodge Company umbrella are independent yet interrelated, supporting each other. Every time a new project is proposed, the infrastructure that has been developed helps to both support and advance the new venture.
Over the company's history, the real estate market has changed in many ways. NP Dodge Company has been able to try different strategies, some which have worked and some that haven't. The end result has been solid, because of the stability of the foundation that began in 1855. Laws, business practices, customer demand and market factors have changed, but NP Dodge continues to do what it does best: real estate. By finding the right combination, the company has been able to offer a variety of services and products to meet changing markets and economies over time.
###
Introducing a fresh new look for your Profile.
Click the 'Edit Profile' button below to enter 'Edit Mode' and continue the tour.