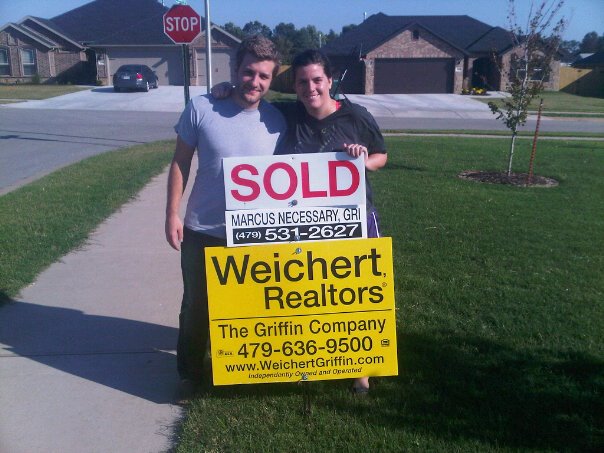 Get to Know Marcus Necessary
I am a lifelong resident of Northwest Arkansas. Both my Father's family and my Mother's family are in the construction business in one way or another; road construction, subdivision development and new home construction. When I was 12, I started working with my Grandfather on job sites, mostly picking up trash or other small jobs. It was during this time, under his mentorship, that I developed my passion for Real Estate in Northwest Arkansas.
 In 2003 I obtained my Arkansas Real Estate license and joined the National Association of Realtors. In 2006 I earned my Broker's license and became the Principal Broker at a National Franchise office in Bentonville. In 2008 I made the transition to Executive Broker at Weichert, Realtors, also in Bentonville. In 2012 I was awarded the Diamond Award of Excellence from the Arkansas Realtors Association and the President's Club Award from Weichert Real Estate Affiliates. I have earned my Relocation Specialist Designation from Prudential Relocation, Weichert Relocation and Sirva Relocation. I am also Dave Ramsey's Endorsed Local Provider for Benton County.
 My commitment to my clients goes beyond merely earning a commission. I enjoy building relationships with my clients and treating them like family. Whether it's working with Seller's or working with Buyer's, I believe that communication is the most important aspect of our relationship. I strive to walk my clients through the process, treating them with respect and having the utmost integrity, to provide amazing customer service. I have sold real estate for over 10 years and plan to sell for many more. My goal is to wow my clients with service that is worthy of their referrals and repeat business.
 I reside in Bentonville with my wife, Alexis, and 2 boys Walker and Will. I am a graduate of Bentonville High School and John Brown University. As a family, we enjoy Razorback Football games and spending time with our extended family in the area. In my spare time, I enjoy Golf and Fly Fishing and annually enjoy Duck Hunting in Central Arkansas. Also, I am the Chairman for the Benton County Ducks Unlimited, the largest Ducks Unlimited chapter in the State of Arkansas.
EXPERIENCE
Broker's License, State of Arkansas, 2006
Graduate Realtor Institute (GRI), 2006
Weichert Realtors Ambassador's Club Award Winner, 2011
Weichert Realtors President's Club Award Winner, 2012
Arkansas Realtors Association Diamond, 2012
Weichert Realtors President's Club Award Winner, 2013
#8 Ranked Agent Nationally in Weichert, Realtors Affiliates in 2013
Certifications
GRI - Graduate of the Realtor Institute
Awards
2013 Weichert, Realtors President's Club
2012 Weichert, Realtors President's Club
Jess Young
03/20/2014
Marcus was extremely professional and walked us through the process of selling our home. He mad the process seamless and we are so grateful for his knowledge of the market and expertise in what it takes to sell your home. We could not have sold our home without him. We highly recommend Marcus to everyone we know who is in the market to buy or sell! This man knows Northwest Arkansas real estate!
Matt Earley
01/15/0014
Marcus was great. He sought to understand what we wanted in a house and did a great job bringing us a bevy to consider week after week. He was deft at offering his expertise without attempting to direct us in a certain way. Marcus worked with our schedules, as well, which was a very nice perk. We would most certainly recommend Marcus to someone searching for a house in Northwest Arkansas.
format_quote
Ranked in top 1% of local Northwest Arkansas Realtors and national Weichert Realtors!