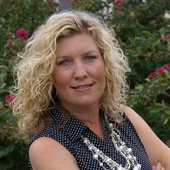 Real Estate Broker/Owner
Melissa McKinney
Realtor, www.LivingFayetteville.com
Fayetteville, NC

—

McKinney Realty Group

Keller Williams Realty Inc.
Selling homes in Fayetteville and surrounding areas. Please visit my web site at http://www.LivingFayetteville.com I look forward to serving you with your real estate needs!
Get to know Melissa McKinney
I have lived in Fayetteville most of my life. My family moved here from Belmont Ohio when I was 14 years old and I have called it home since. I was lucky enough to meet and fall in love with my husband Richard McKinney here in Fayetteville NC. He served his country proudly for 21 years as a Military Policeman. I have four wonderful children, well most of the time they are wonderful.... ~ smile~
Being a retired military wife and mother of four I know what looking for a home from a far can be like. I am here to help, I want to do the work for you be your feet on the ground to gather the information that you will need to make an informed decision when you arrive! There is so much that goes into planning a move to a new station... What school district the children will attend, how far is it to Ft Bragg, I can help you with all those needs.
If you already reside here in our wonderful city I am most always ready for a ride around town. Looking at homes is a true joy for me! I love to get new ideas from the owners of the homes that I show and also what you as the buyer has to say about what you could do with the home to make it yours!
Fayetteville is truly a wonderful place to live and raise a family, patriotic to the core. You will love this city and all it stands for, I am proud to call Fayetteville NC home. I have lived other places through the years but I am always glad to return to my home here in Fayetteville!
I love to spend time coaching whenever possible throught the Fayetteville/ Cumberland County Parks and Recreation. Here is a little blurb on my volleyball team, I loved spending time with those girls!
Volleyball team and 11 thirteen and fourteen year olds...
I know you all have heard me mention the fact that I coach my daughters volleyball team. Today was the first day of the end of the season tournament and we won. Tonight at my house I had arranged their end of the year party. HELLO do I need my head examined??? I have 11 thirteen and fourteen year old girls here for the ENTIRE night!! Are you all feeling even a bit sorry for me?? I had no idea girls could be SO loud!!
But I must be thankful for something in this... I am thankful that they have learned to play well together and enjoy being together. I am thankful that they all are good respectful children!
The thing that I am MOST thankful for at this moment...... That tonight is 1/4 over! Will they sleep?? I doubt it!! But I am thankful that they are happy children.... LOUD but HAPPY!!
You can visit my Facebook Fan page to keep up with things going on in Fayetteville NC @ www.Facebook.com/FayettevilleNcHomeFinder or visit my personal page and request to be my friend, just put in the personal message that you are interested in Real Estate in Fayetteville NC @ www.Facebook.com/magmckinney
Here are some blogs they may interest you.....
Buying a Home in the Jack Britt School District
Should I buy or Should I rent?
When will my First Payment Be?
Distressed Properties and what that Means to You
Does It Cost to Start the Loan Process
Buying a Home Needs to be Stress Free
Melissa McKinney's Blog Posts
Real Estate Sales and Marketing
–

about 5 years ago
Real Estate General Information
–

about 7 years ago
Real Estate General Information
–

almost 8 years ago
Home Buying
–

about 8 years ago
Certifications
Buyers:
First time home buyers are one of my favorites. I enjoy the questions and you can ask as many as you like! It is a very exciting time when you realize the American dream of owning your own home, and I love being a part of that! I really think that you are never as excited as your are when you buy your first home. It is a wonderful experience and I get to relive the excitement all the time vicariously through my clients.
I am not saying that purchasing homes after the first isn't fun because it has its own excitement! The fun and accomplishment of moving up to another house for whatever reason, size, area, etc. is also a very exciting time and I love to participate in that also!
Another exciting time is when you have the time, which is a luxury all in itself, to build a home from scratch. There are so many things to do and chose. You really need an Agent that can help you through the whole process because it is time consuming and I would love to hold your hand through it!!
It takes time to find that perfect home and I will be there with you every step of the way!
There are so many things to consider when purchasing a home.... Price, square footage, school districts, etc. You have to have someone to keep track of what is really important through the process! I think the following will help prepare you to know when the time is right....
Mr. & Mrs. Buyer Lets Talk About the Right Time to Make an Offer...

In today's news they talk a lot about the economy, how people are not spending, house sales, etc... One of the things that home buyers hear SO often is that it is a "buyers market". Well it is a buyers market but that means a lot of different things in different areas...

I want to talk about what that means here in Fayetteville NC. When you are looking for a home for sale you already know what it is that you are wanting in a home. We all know that most of the time that there are at least a few things that you are willing to compromise on and things that you HAVE to have.

I want to shift gears here for just a moment and put this into terms that might make you think a little more like I want you to before we continue. If your child just had to have a certain toy for Christmas and it was sold out all over town but you finally found just what you were looking for would you buy it or would you wait to see if you could get a better deal on it IF you could find it at another store? A gamble that you would be willing to take?

Back to the house.... In Fayetteville NC the prices of home DID NOT increase dramatically like they did in a lot of places around the US a few years ago. So when the bubble popped a house prices plummeted Fayetteville NC was not effected like other places. So you may hear that in Las Vegas Nevada that homes are selling 50,000 to 100,000 less then they did a few years back that is NOT what you will find when purchasing a home here in Fayetteville NC. Our decrease might be a few thousand dollars if even that... In some areas, because our home prices were so stable, homes have continued to gain in value.

I know, I hear it all the time, Zillow (and others like them) says that home is only worth ??? Well if you read the fine print you will see what they say their spread of error is. In which case I would look to my area specialist, your REALTOR, Melissa McKinney, to get the facts. Homes are still selling in Fayetteville every day and if you are looking for that type of home then someone else is looking also.

So, when do you want to make an offer? When you have found the home that meets all your "have to haves" and some of your "would be nice to have". Don't wait because someone will get your dream home and you will always be upset that you didn't make an offer when you should have. I have seen it many times..... In the end my job and what I work hard to achieve is your happiness in a home that you love, I take that task VERY seriously!

Visit my web site, www.FayettevilleNcHomeFinder.com and start your search today! We are going to make a GREAT team!!
Sellers:
If you have a home that you wish to sell in Fayetteville NC look no further! I take the time to market your house where people begin their search...online! I am constantly taking classes to keep up with today's marketing techniques to make sure my sellers are getting the most exposure possible. If you are serious about selling your home I am serious about getting it SOLD! If you don't mind For sale signs in your yard, flyers inside to help the potential buyers remember your home, you home listed on numerous web sites, open houses, and regular updates then I am the REALTOR for you!
I am also a certified Staging Agent! So I can help you with de cluttering your space and make it more inviting for our prospective buyers. Having the home look like it has as much space as possible will help it well much quicker. Here are some tips to help with the process....
I am a Certified Staging Agent, tips that you need to know!
One of the biggest things that you need to know is the true meaning of home staging. Home staging is used to highlight the good things about the property and down play the bad. It is not Interior Designing, not as people know anyway. If you were to call a Interior Designer to come in and make your house your home, you would be decorating for your taste for the time that you are going to be living in the home. Home Staging leans more towards Neutralizing the home. Maybe using the things that are already contained inside the home but moving things around to be more functional and appealing to the general public. If necessary purchasing things that will enhance the space.
Some of the other things that you need to do as a Seller is to take down the personal objects through the home. Family photos and certificates and things of that nature you should not leave out for anyone and everyone to look at. First of all you don't want to DISTRACT the potential buyers from looking at the HOUSE. I have been in homes with potential buyers that will say "hey, this guy is a DR." or "I think I have seen them somewhere before". Then they are spending more time trying to figure out the connection and have forgotten why they are there.
For safety reasons you will want to put away anything that tells when you will be away from the home, example, calendars with the family events. We want to hope all the people that come through our home are good honest people but some may not be. So lets not give them the information that they need to return unaccompanied when you are not at home. Valuables need to be put away or even removed from the property, prescription drugs should be put in a place where buyers will NOT be looking. They all are going to be opening closets and cabinets but should NEVER open drawers of furniture, anything not a part of the home.
One of the things that you should be willing to do when you want to SELL your home, I say "SELL" because we could say "LIST" but what do you WANT? You should be willing to pack up excessive furniture and belongings so that it highlights the space that the home has to offer. You are planning on moving, RIGHT? So just think of this as getting a head start. Everything that you are doing is going to HELP you get to where it is YOU want to be! Sometimes I hear people say "I still have to live here!". Well the longer you keep that attitude you WILL have a MUCH longer stay...
Another thing that you will need to do is if you have loud colors that depict your personality, although it is GREAT for you for the potential buyers, not so much. So you need to be willing to paint the rooms colors that will appeal to the greater population. Some people say "well I will paint it when I get an offer and they can say if they want to paint". The problem is that there are more than not that can not see past that color. So the house might be exactly what they are looking for but they were so DISTRACTED by the colors they didn't even see the house. Just continue to remind yourself that YOU are SELLING you DO NOT want this to be your home any longer.
Closets are a BIG thing! They are probably a whole lot bigger than they look right now! You are going to have to clean them out.... If it is winter pack up all your summer stuff because hopefully by summer you will be hanging those things in your new closet! The boxes on the shelf they need to go to storage to show off the storage area that the closet has to offer. Lets not forget about under the sinks. Pack up what you will not be using and clean out. It is inevitable that empty bottles make their way there and somehow don't make it to the trash, get rid of them. Not to mention how much this is going to make your move easier and you don't want all that unwanted stuff going to YOUR new house!
These are all easy things that you can get done before I even arrive at your property. Once I am there I can give you more tips to help get YOUR HOME SOLD! Give me a call, lets talk about your wants and what it is going to take to get you there!!
Photo Information: Diploma, Diamond, Blue Room, Closet, Sold
Give me a call or stop by my web site and take a peak at how I do things at www.FayettevilleNcHomeFinder.com
I wrote a blog about how to be the "Prefect Seller" why don't you hope over and take a look so that you can be well prepared to get your home SOLD quickly, we will make a great team!
Introducing a fresh new look for your Profile.
Click the 'Edit Profile' button below to enter 'Edit Mode' and continue the tour.