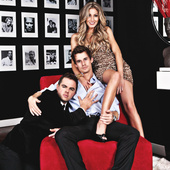 Real Estate Agent
Matt Sweeney
Rich Kids Real Estate
Beverly Hills, CA

—

Rich Kids Real Estate: The Brokerage
The Rich Kids Lounge
9615 Brighton Way #306
Beverly Hills , CA 90210
---
Get to know Matt Sweeney
Whether you are part of the Rich Kids Family of clientele, have followed our blog over the years, or attended one of our many open houses, we make it clear that there is one core value at the heart of our business: anything less than exceptional simply won't do. With that said, we are pleased to present to you the next generation of Rich Kids Real Estate.
By incorporating the latest in technology, social networking, and highly innovative marketing concepts with world class service, we are able to offer our clientele an experience that is unsurpassed. Rich Kids Real Estate is a lifestyle focused brokerage. We are here to not only to assist you with all of your real estate needs, but to create a synergy between your move and the life you most want to lead. We consider every client part of the Rich Kids Family. What's unique about our brokerage is that we are somewhat of a social network unto ourselves. If we can utilize our contacts to help you obtain your goals, we are always happy to make a call on your behalf. Often the closing is just the beginning of our relationships.
The days of placing a listing in the MLS with fingers crossed are long gone. Being completely hands on is the name of the game. From moving furniture to create a more marketable and inviting space to providing a complete education about the transaction, we are here for you! When our clients have a question, they get an immediate answer. "The Bat Phone" is with one of us at all times, ensuring you never have to wait to get the information that you need.
Sit back, relax, and take a sip of the good life to come. Your mother's high pressure agent has just retired and real estate has finally become fun again
Matt Sweeney's Blog Posts
Home Buying
–

over 9 years ago
Home Buying
–

almost 10 years ago
Real Estate General Information
–

almost 10 years ago
Real Estate General Information
–

almost 10 years ago
Certifications
The Frequently Asked Questions of Rich Kids Real Estate OK, So What's With the Name "Rich Kids Real Estate" and Are You for Real? I am so glad you asked! In a not so distant land called Beverly Hills, our fare city was peppered with such real estate branding as "The Smith Group", "Beverly Hills Properties", and "Luxury Real Estate R' Us" (these are fictitious names to protect the bland and boring). Our quest was to create a totally unique real estate experience that spoke to a specific demographic of clientele in the 35 and under range. If you are reading this, chances are you are our core demographic or the name inspired some sense of curiosity to explore further. Every detail of Rich Kids Real Estate from the site and written content to the actual buying/selling process was custom tailored with you in mind. Love or hate the name, you'll remember it. Besides, doesn't everyone come to Los Angeles with dreams of living the Rich Kid lifestyle? We are fortunate enough to live in a place where the distinction between fantasy and reality collide on a daily basis. I Am Not a Rich Kid – Will My Computer Implode If I Read Further? No matter where you are in your life, everyone wants to be catered to and spoiled as if they were a Rich Kid. The name is a little tongue in cheek, but don't let the style over shadow the substance. At our core, we are a lifestyle and relationship centered brokerage. What that means is that whether you are looking for your first apartment in LA or a 3 million dollar home in the hills with thoughts of building or adding to your family, you will be treated like the rock star that you are. With Rich Kids, it's all in the details and doing everything completely over the top. The closing of the transaction is just the beginning of our relationship…more on that in a moment. I Like the Concept, But Aren't You Narrowing Down Your Prospective Audience? Besides, I'm 45…Why Would I Want to List My Home With Rich Kids? One mistake many agents make is trying to be everything to everyone. We know that perhaps our marketing and branding will not appeal to all walks of life. For those who get the power of a creative integrated marketing approach and take the time to interview us for the job, you will find that the Rich Kids standards are unmatched by any other brokerage in town. The days of simply uploading some photos into the MLS, followed by a generic open house hosted by a self serving agent looking to collect buyer's leads are over. To sell effectively, you need to always be in front of the public to ensure they remember your property. With Rich Kids, it is never an open house – it's an event! If you have ever been to one of our opens, you know instantly that it is a unique experience. Our street signs and property signage incorporate the newest technology allowing buyers to quickly use their smart phones to scan our bar code, taking them to our site featuring your listing. Our sellers run the range of 18-80, utilizing the power of the Rich Kids brand to draw a specific buyer or clientele to their home. We provide a profile of the anticipated prospect down to the types of activities this buyer would enjoy. A multi level home in the hills will not attract the same buyer as a 4000 sq. ft home in the flats. Our marketing strategies are customized to reach a targeted audience for any given property. As for the buyers, it's all about having an agent who actually listens and is well connected to the agent/broker community to know what's hitting the market before it actually does. We have won multiple offers on prime properties that weren't necessarily higher in price than the competing bids. Our relationships and reputation in facilitating a smooth transaction are often what wins us the deal. The Rich Kids client of any age wants a home as distinct and unique as their lifestyle, which can run the gamut of mild to wild. If you can dream it, we can make it happen (as long as it's legal – we can't find you the ultimate place to build a "meth lab" for instance). The Closing is Just the Beginning…The Beginning of You Spending Your Commission? What Do You Mean? We like to think of Rich Kids as a social network unto ourselves. One of the benefits to working with a targeted niche of like minded individuals is that with us, relationships are formed for life. So much of our personality is reflected in what we do that chances are if you like what you see, you'll like us as people and vice versa. Some of our closest friendships began after the Rich Kids Closing (this cannot be expressed in words but must be experience first hand) including the formation of Rich Kids Real Estate: The Brokerage. We have found clients dates (no comment from the peanut gallery, RK clients who are reading this – I didn't say they ended in marriage), the best car deals in town (especially if you need a BMW or Mercedes), and are happy to utilize our many connections to help start a career path. Our objective is to help you create the ultimate lifestyle in all facets. Each week we send out a newsletter with hot properties, new listings/sales, and social activities (we do a weekly hike for all RK clients and friends…business is off the menu – just a way to stay fit and make friends). We also offer weekly buying and selling classes held in The Rich Kids Lounge above Lisa Vanderpump's (our favorite Real Housewife of Beverly Hills) famed Villa Blanca Restaurant. No, we haven't started the Rich Kids Book Club ala Oprah just yet, but don't be shocked if you see it in the near future!
Introducing a fresh new look for your Profile.
Click the 'Edit Profile' button below to enter 'Edit Mode' and continue the tour.