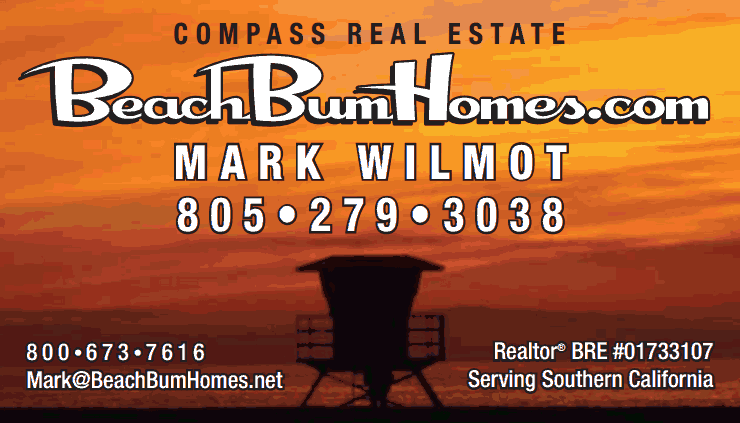 Get to Know Mark Wilmot
In order to best serve my clients I am constantly in the communities. Staying familiar with the current status of real estate available. The best agent knows his inventory and who is selling or buying what. It is best to have the answer when asked or to know where to find it. As well as answering the phone. When you need me I am accessible. Not a voice on a machine. When you want me or an answer I am on the other end of the phone or where you need me to be.
Another Beautiful Day in Paradise
Certifications
Southern California. All communities from Malibu to Santa Barbara. Boat Dock homes, Colonies, Ocean Front to inboard and all of the little Hamlets and Enclaves.
Are you looking for a lifestyle or an investment that you can enjoy on the weekends. I am exactly what you need in an agent.
Skills
Trust liquidations, Probate, etc.
Kathy Phillips
03/04/2014
"Mark was excellent in understanding our needs...would just use him again if we ever moved back to CA."
Beth Ann Bennett
07/02/2013
I have known Mark, for many, many years he is a Good Friend with my late husband and myself. After, my husband pasted away Mark was there to Help me get thru some really hard times not only as a Good Friend but to help guide me to make a smart decisions regarding my 2 homes. Explain what Mark did for you He Gave me the "Best Advice" on what I needed to do if I decide to sell my house, since I had just become a Widow it was so nice to know that I was not be taken advantage of. He listed my home and had a couple of "Open Houses" one for realtors and one for the public and it went into escrow pretty fast. Mark stand out from other professionals His Kindness and Trust. I wanted to move to my AZ home, At first I was going to sell the Oxnard house and was firm on the price and would not take anything less. or I would just rent it. Mark took his time to help me understand, what would be the best choice for me. I did get my asking price less just a few thousand dollars different Thanks to him not being pushy and wanting me to lower the price. I was in and out of town and he handled every issue that came into play stayed on top of it and was in Constance contact with me. He showed the house to a number of folks, and also treated them with the same respect if they could not afford this house he worked with them to find other opportunity. He was there no matter what time day or night. I had so much, Trust in him to "Always" made the right decision on my behalf. He made selling the home where my late husband and I lived, raised our kids for over 20 years easy. I really wanted to make sure that whoever purchased it would be as Happy as we were and that they would continue to enjoy the love and happiness that we had all those years. Mark did that for me! which really made selling it a lot easier. He is always concern with my needs at all times, also has a Big Shoulder to Cry on which I did a lot. It was very hard to make the decision to sell and move on. There are many memories in a home that you spent all your life in I never felt any pressure even when there were times I wanted to change my mind and did he never gave up or got upset. I'm now living in AZ and still stay in touch with him and his lovely wife. He is a" Great Realtor" but most of all the lasting "Friendship" and "Trust" with him is the most important thing that came out of selling the house in Oxnard." Beth Bennett
Steven R. Garcia
10/10/0013
I am a Real Estate Lawyer who has known Mark for more than 40 years. He is caring, knowledgeable, and insightful in approaching me with questions on behalf of his clients. It's nice to work with someone who "gets it.""
Brian Barnum
06/03/0013
Mark has always been willing to work with me to find the answers I was looking for. He is a man of his word at all times. I don't know of anyone I would rather deal with in real estate. He is both professional and personable."
J. Scott Strathman
01/05/0013
Mark has worked his way to the top in old-fashioned form; hard work and integrity. I have known Mark since childhood. From a simple beginning, he has built and established himself as a most trustworthy and hard-working Real Estate Associate and Consultant. I could not be happier or more proud to see Mark achieve greatness in his field."
format_quote
Inform and advise, Market and sell.