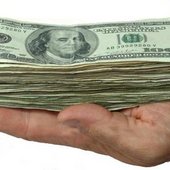 Mortgage and Lending
Lee Wyzowski
Get to know Lee Wyzowski
VA home loans are designed specifically to help veterans finance property and are guaranteed by the Department of Veterans Affairs. Despite what many veterans may hear, VA home loans are typically not more difficult to obtain nor are there more hurdles than with conventional loans. VA home mortgage programs do have some very specific requirements which a qualified mortgage professional can help guide you through. There are many benefits to VA home loans and a seasoned loan advisor should be able to help you find a great deal and will walk you through the process from application to funding.
Benefits and some of VA Home Mortgage Guidelines:*Please note that terms and conditions change periodically. We recommend checking the Veteran Administration's web site for the most up-to-date program information. Programs can and do vary by lender.
$700,000 standard VA home loan limit (exceptions maybe made for VA home mortgages between $700,001 - $1,500,000). No money down VA home loan options. Gift funds may be used for closing costs & seller contributions are allowable. The majority of VA home loans are assumable to qualified buyers making selling homes in the future attractive to buyers. Minimal and less than perfect credit may exist for certain VA home loans. No mortgage insurance on VA home mortgage loans. Security of 15 & 30 year fixed rate mortgages. No penalties for paying off a VA home mortgage loan early. VA home loan funding fee may be financed into the loan amount.
Who is Eligible for a VA Home Loan?
Active duty personnel or veterans with previous qualifying experience. Members of the National Guard, Coast Guard, and qualified reservists. VA home loans may also be available for honorably discharged personnel, public health service officers, and cadets & midshipmen in the Army, Navy, and Coast Guard academy. Also, unmarried surviving spouses of veterans who died in service or who are missing in action as a result of service related activity may qualify for a VA home mortgage. VA home loans may also be obtained by current US citizens who served with our allies during World War II
A VA home mortgage requires a Certificate of Eligibility from the Department of Veterans affairs. Most CoEs can be pulled online within minutes.
Due to recent drops in VA mortgage rates that have hit historically low levels, the mortgage industry is now facing similar issues to those in early 2009. One approved VA lender, Flagship Financial Group branch 403 has said the following recently, "In the last 2 weeks we have seen our big lenders like Wells Fargo, Freedom Mortgage and Met Life all drastically slow down in the amount of time it is taking them to get our VA loans approved." It is tough because the home owner normally does not normally want to hear excuses and just wants the loan to get done quickly!" "In all honesty our hands are tied." said Nate Burt, Loan Officer.
All Veterans and military home owners should understand that patience is needed at times like this. We looked into the published VA underwriting turn times from some lenders and they have almost tripled from where they were just a month ago. It is important that loan officers educate and communicate with their clients so as to make sure everyone's expectations and set correctly.
FHA mortgage loans are an attractive mortgage solution for a purchase or refinance because today's FHA mortgage rates are near historic lows. The guidelines are also flexible allowing more people to qualify. Whether you have had credit issues in the past or are simply looking to limit your down payment to 3.5%, an FHA loan might be an ideal home financing solution. American Financial Resources is one of the top FHA lenders in the country - call us today at 800-316-9508 to learn more.
What is an FHA Mortgage loan?
FHA stands for Federal Housing Administration (FHA) which is a governmental agency created in 1934 to improve housing standards and promote homeownership. The FHA insures your loan, making the loan less risky for your lender, and allowing you to be offered better terms. All of the consultants at American Financial Resources are true FHA experts, so you can have confidence putting your home loan in their hands.
FHA home loan options from American Financial Resources
There are several FHA mortgage loan options, including (*terms subject to change):
Purchase loan - If you are buying a home, your down payment can be as low as 3.5% of the price of the home. FHA also allows seller concessions up to 6% of your home purchase price. First time homebuyers may also receive a tax credit of up to $8,000 and $6,500 for previous home owners (consult with your tax advisor for all the details). Refinance loan - Refinance up to 97.75% of your home value. The FHA even offers up to 85% cash-out, the highest amount of any our home loan programs. Debt Consolidation - If you are swamped with too many monthly payments - credit cards, personal loans, car payments, 2nd liens, and other debt - now may be the best time to consolidate that debt into a single mortgage payment using a FHA loan. Your single, consolidated payment may be much lower than the total amount of individual payments you are making now. Plus, the interest may be tax deductible (consult your tax advisor). FHA Streamline Refinance - Do you already have an FHA loan? If so, you may qualify for fha refinancing with a lower rate and lower monthly payment. Best of all, there is very little paperwork involved and no new home appraisal is required. Manufactured and Mobile home loans - There are FHA mobile home loans available for mobile homes and manufactured homes. FHA 203K Rehabilitation Loans - Creative solution for those looking to purchase or refinance a residence who plan on rehabilitating the property.
FHA loans and FHA loan processing has become a critical piece of any loan officer or mortgage broker hoping to thrive in today's market. A lot has changed in the last year or so and the mortgage market has come full circle.

FHA is part of the Housing and Urban Development (HUD), a US government agency. The goal of the organization is to improve housing standards and conditions, provide home financing, and to stabilize the mortgage market. Since 1934 the FHA and HUD have insured more than 34 million home mortgages. The FHA has 4.8 insured single-family mortgages.

Today's mortgage industry is suffering from the international collapse of the subprime markets. The credit freeze has affected most countries. The UK had a 'run on a bank' in Sept 2007. This was the first in three decades and something the financial industry believed they would never see again.

The mortgage community has returned to the more traditional underwriting model of approving loans. With subprime programs scarce and tougher to qualify for, FHA loan processing has become more popular. FHA insures the mortgages making lenders more willing to offer loans to low-qualifying borrowers with less than perfect credit. FHA also has a low 3% down payment with a competitive interest rate. With the new FICO add ons for conventional loans, many times an FHA loan is less expensive even when a higher LTV is not as important. The pending foreclosure assistance programs FHA has been approved for will also drive more volume. This is the only affordable option for many of today's borrowers.

Looking for mortgage loan processors and other resources?

FHA does allow a contract processing company to perform FHA loan processing as an outsourced service. Any mortgage processing company should offer FHA loan processing, but it is important for independent loan officers and mortgage brokers to make sure the company and processors have strong experience. For years FHA loans were not as popular because of the net worth and extra approvals broker needed to do FHA loans. Subprime loans could finance some of the same borrowers without the hassle. As a result FHA loan processing is relatively new to most processors.

FHA loan processing classes are available to mortgage processors who want to offer this service but if you want to get the hard loans funded you need a processor who has processed a lot of FHA loans. Since many FHA loans require a manual underwrite to get approved it takes a lot of skill to know which loans can be approved even if the AUS has referred them. Don't just ask the number of years FHA experience a processor has, really focus on how many FHA loans they've actually done and are doing now. Personally I won't work or hire a processor who hasn't processed at least 300+ FHA loans with at least 5 years of FHA loan processing experience.

Mortgage brokers also need to know that there are different disclosures for FHA loans. I've been thru several FHA audits and they are no fun if you haven't done your FHA loan processing correctly.

A lot of things that I've written about before still apply when selecting the right contract mortgage processing service but now that FHA is such a big part of today's market this has become one more thing to really dig into when selecting a processor. Ask detailed questions about the number of loans and length of time your potential processor has done FHA loan processing.
Certifications
The Section 203(h) program allows the Federal Housing Administration (FHA) to insure mortgages made by qualified lenders to victims of a major disaster who have lost their homes and are in the process of rebuilding or buying another home.

Purpose:
Through Section 203(h), the Federal Government helps victims in Presidentially designated disaster areas recover by making it easier for them to get mortgages and become homeowners or re-establish themselves as homeowners.
Type of Assistance:
This program provides mortgage insurance to protect lenders against the risk of default on mortgages to qualified disaster victims. Individuals are eligible for this program if their homes are located in an area that was designated by the President as a disaster area and if their homes were destroyed or damaged to such an extent that reconstruction or replacement is necessary. Insured mortgages may be used to finance the purchase or reconstruction of a one-family home that will be the principal residence of the homeowner. Like the basic FHA mortgage insurance program it resembles (Section 203(b) Mortgage Insurance for One to Four Family Homes), Section 203(h) offers features that make recovery from a disaster easier for homeowners:
No downpayment is required. The borrower is eligible for 100 percent financing. Closing costs and prepaid expenses must be paid by the borrower in cash or paid through premium pricing or by the seller, subject to a 6 percent limitation on seller concessions.
FHA mortgage insurance is not free. Mortgagees collect from the borrowers an up-front insurance premium (which may be financed) at the time of purchase, as well as monthly premiums that are not financed, but instead are added to the regular mortgage payment.
Some fees are limited. FHA rules impose limits on some of the fees that lender's may charge in making a mortgage. For example, the lender?s mortgage origination charge for the administrative cost of processing the mortgage may not exceed one "point", that is, one percent of the amount of the mortgage excluding any financed upfront mortgage insurance premium. In addition, property appraisal and inspection fees are set by FHA.
HUD sets limits on the amount that may be insured. To make sure that its programs serve low and moderate income people, FHA sets limits on the dollar value of the mortgage. The current FHA mortgage limit can be viewed online. These figures vary over time and by place, depending on the cost of living and other factors (higher limits also exist for two to four family properties).
The Graduated Payment Mortgage (GPM) works in times of high interest rates when first-time homebuyers cannot meet the standard mortgage payment, but expect their incomes to increase substantially in the next 5 to 10 years. The GPM accrues negative amortization so that the borrower's initial mortgage payments are made at a nominally discounted interest rate from the standard prevailing rate. The difference is then added to the principal balance. The GPM program offers five different plans varying in length of time and rate of increase of nominal interest rate. It is anticipated that when the interest rate, and thus the mortgage payment, increases with time the borrower's income also will have increased to accommodate the higher payments. Larger than usual downpayments are required to prevent the total amount of the loan from exceeding the statutory loan-to-value ratios. Downpayments required for GPMs vary in proportion to interest rates on the loans. In all other ways, the GPM is subject to the rules governing ordinary HUD-insured home loans.
Applicant Eligibility: All FHA-approved lenders may make GPMs available to persons who intend to use the mortgage property as their primary residence and who expect to see their income rise appreciably in the future.
Whether you are buying a house or refinancing your mortgage, this information can help you decide if an interest-only mortgage payment (an I-O mortgage)--or an adjustable-rate mortgage (ARM) with the option to make a minimum payment (a payment-option ARM)--is right for you. Lenders have a variety of names for these loans, but keep in mind that with I-O mortgages and payment-option ARMs, you could face
"payment shock." Your payments may go up a lot--as much as double or triple--after the interest-only period or when the payments adjust.
In addition, with payment-option ARMs you could face
negative amortization. Your payments may not cover all of the interest owed. The unpaid interest is added to your mortgage balance so that you owe more on your mortgage than you originally borrowed.
Be sure you understand the loan terms and the risks you face. And be realistic about whether you can handle future payment increases. If you're not comfortable with these risks, ask about another loan product. Skip to content
What is an I-O mortgage payment?
What do you need to ask when shopping for an I-O mortgage payment or a payment-option ARM?
What are the risks with I-O mortgage payments and payment-option ARMs?
When might an I-O mortgage payment or a payment-option ARM be right for you?
When might an I-O mortgage payment or a payment-option ARM not make sense?
What are the alternatives to I-O mortgage payments and payment-option ARMs?
What are some important target dates in an I-O mortgage or a payment-option ARM?
Does the type of loan and loan payment plan make much difference?
What should I keep in mind when it comes to an I-O mortgage payment or a payment-option ARM?
Comparison of Five $180,000 Mortgage Loans
What is an I-O mortgage payment?
Traditional mortgages require that each month you pay back some of the money you borrowed (the principal) plus the interest on that money. The principal you owe on your mortgage decreases over the term of the loan. In contrast, an I-O payment plan allows you to pay only the interest for a specified number of years. After that, you must repay both the principal and the interest.
Most mortgages that offer an I-O payment plan have adjustable interest rates, which means that the interest rate and monthly payment will change over the term of the loan. The changes may be as often as once a month or as seldom as every 3 to 5 years, depending on the terms of your loan. For example, a 5/1 ARM has a fixed interest rate for the first 5 years; after that, the rate can change once a year (the "1" in 5/1) during the rest of the loan. More information on ARMs is available in the Federal Reserve Board's Consumer Handbook on Adjustable Rate Mortgages.
The I-O payment period is typically between 3 and 10 years. After that, your monthly payment will increase--even if interest rates stay the same--because you must pay back the principal as well as the interest. For example, if you take out a 30-year mortgage loan with a 5-year I-O payment period, you can pay only interest for 5 years and then both principal and interest over the next 25 years. Because you begin to pay back the principal, your payments increase after year 5
Introducing a fresh new look for your Profile.
Click the 'Edit Profile' button below to enter 'Edit Mode' and continue the tour.